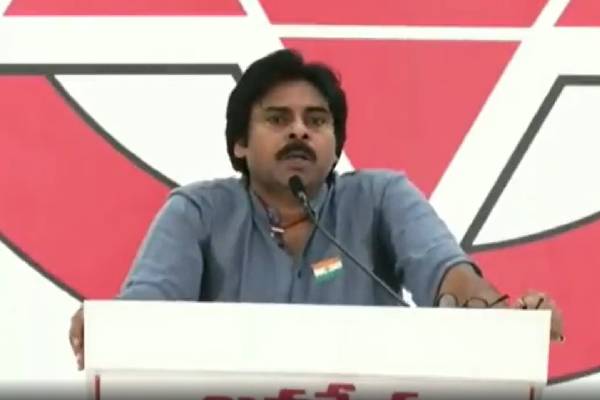 Jana Sena Party (JSP) President Pawan Kalyan on Thursday warned leaders against speaking for separate statehood to North Andhra and Rayalaseema regions of Andhra Pradesh.
The actor-politician said that if someone speaks in separatist tones to split the state further, they would not see another extremist like him.
In his address at the Republic Day celebrations at the party office near Mangalagiri in Guntur district, he warned the leaders that if they speak of dividing the state further, this would have serious consequences.
Pawan Kalyan said it was unfortunate that Revenue Minister Dharmana Prasada Rao proposed statehood for the North Andhra districts while former minister Byreddy Rajasekhar Reddy wanted a separate Rayalaseema state.
He asked these leaders to introspect what they had done for their respective regions, and explain how new states would help in achieving development.
The JSP leader alleged that the YSR Congress Party (YSRCP) was stoking regional feelings to achieve its political objectives.
He exhorted people to raise a banner of revolt against the "draconian" government of the YSRCP by drawing inspiration from the youth of Telangana who had fought for separate state and achieved it in spite of many difficulties.
The actor told the partymen that he had not entered politics to become Chief Minister overnight. Stating that he has an ideology for the next 25 years, he made it clear that it will not change once in five years for elections.
He observed that the people of Andhra Pradesh were apparently obsessed with their castes more than the common good, which was the reason for other states stealing a march on it.
He alleged that law and order deteriorated due to the inefficiency of the government. He said the government ensured that no one dared to question its policies and actions by implicating people, mainly leaders of the opposition parties, in false cases.
He alleged that YSRCP cadres were behind the arson that had taken place in Amalapuram over the naming of Konaseema district after B.R. Ambedkar. It was a conspiracy to derive political mileage by driving a wedge between various castes, but nobody knew about the fate of this case, he said.
Pawan slammed Chief Minister Y.S. Jagan Mohan Reddy for having no confidence in the state police. He said nothing has so far happened in the Y.S. Vivekananda Reddy murder and the infamous 'Kodi Kathi' case.
Vivekananda Reddy, a former minister and uncle of Jagan Mohan Reddy, was murdered just before the 2019 elections.
'Kodi Kathi" case relates to the attack on Jagan Mohan Reddy at Visakhapatnam Airport in 2018 by a youth with a knife used in cockfights.