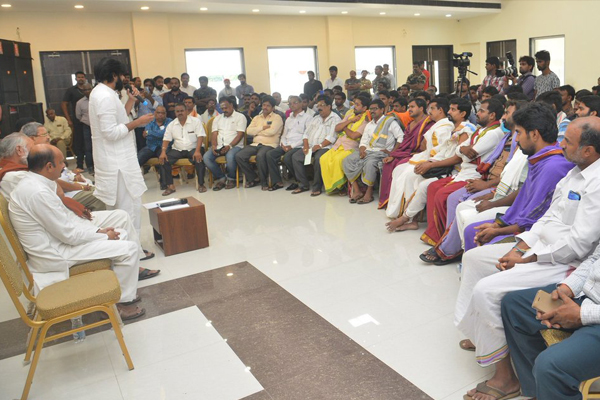 Pawan kalyan is in Bhimavaram as part of his 'Praja Porata Yatra' and he has been meeting people from various segments – like people from various castes and people from various occupations. During this, he made interesting comments on caste-based voting and PRP's experiment with Sravan Dasoju, who is currently in Telangana Congress party.
Pawan told, Sravan was his good friend and he belongs to Viswabrahmin caste. In 2009 elections, PRP gave his Secunderabad MP ticket and he got 1.38 lakhs votes despite the fact that there are none from his caste in that constituency. But same Sravan later joined TRS and TRS denied him MLA ticket saying his caste doesn't have strength to make him win in that constituency. After this, Sravan, who worked in Telangana movement sincerely, left TRS and joined Congress. So, Pawan reminded people do not always vote based on caste.
It is good that Pawan still remembers PRP experiments. Pawan has also campaigned for Sravan in Secunderabad. However, it's same Sravan, in the capacity of TRS leader, who vociferously opposed Pawan's 'Cameraman Ganga tho Rambabu' movie saying it's against Telangana movement. Of course later, after joining Congress, Sravan was seen talking positively about PRP.