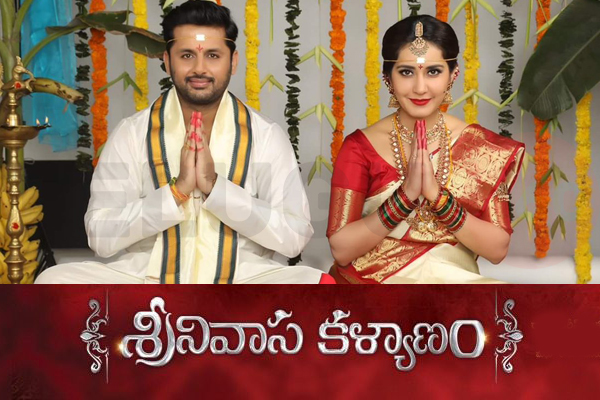 Srinivasa Kalyanam Review Rating

Telugu360 Rating : 3/5
Story:
Srinivasa Kalyanam is all about what happens when a marriage alliance is set between two contrasting backdrop families. The interlaced theme highlights the significance of telugu traditional marriages and underlines the importance of joint families and relations. Srinivas Raju ( Nithiin ) loves Rudraraju Sridevi alias Sree ( Raashi Khanna) and both parents agree for their marriage. While agreeing for the marriage, Vasu's Father-in-law RK (Prakash Raj) throws a crazy pre-condition to Vasu, with a counter one Vasu accepts it. Rest of the story is about whether they stick to their conditions by the time marriage occurs or not.
Performances:
This film has a stellar star casting. Even for small characters, they signed up very reputed actors. Nithiin as vasu , who loves his family very much, portrayed the role efficiently. Raashi Khanna is very cute as Sree – Vasu's love interest and bride . Poonam Kaur plays Sree's elder sister role , Nandita Sweta plays vasu's maradalu ( Sister-in-law) role. Prakash raj plays rich father role with ease, Rajendraprasad and Naresh got smaller roles with little scope to perform. Jayasudha as grandmother plays a preaching role convincingly. Praveen, Satyam Rajesh and Vidyullekha Raman take care of comedy department. Yesteryear heroines Aamani, Sitara play mother roles. There are many other known actors even in insignificant roles
Analysis:
Producer, director Dil Raju , Vegesna Satish are known for feel good movies with family values , and the duo yet again came up with a film that is on expected lines. Story wise nothing creative out there, it is fairly simple one. What make this film appeal to families is the showcased traditions of the marriage in telugu families. It subtly reminds us the sensibilities we forgot as we grow in this materialistic world. Director pinpoints at the current busy generation who doesn't even spend few minutes at the weddings they attend. To establish his point, the director has written the drama from two families' point of view. One family represents urbanized rich, second represents traditional joint village family. That premise give scope to properly compare and contrast the both sides' arguments. In first half Srinivas, Sree love thread is okay but could have been better.. They quickly come to marriage decision
First half of the movie is good paced, second half is family oriented. Youth may feel bit uncomfortable with lengthy dialogues in 2nd half. Sameer Reddy photography captures the picturesque Godavari districts.
There are many family audience appealing dialogues " Whatapp lo roju evadevadiko good morning , good night cheptaamu ; Parents ki daily okasari phone chesi chepte vallu entha happy ga untaru ? "
"Pelli lo bandhuvulu andarini chusthe 70 yella naa jeevitam gurthuku vastundhi"
Positives:
Feel good film with subtle message
Deja Vu moments for elders, middle aged people
Rich Telugu traditional wedding has been highlighted so well
Nithiin , Raashi couple look good despite poorly written romantic track
Star casting is outstanding
Title song and couple of other songs are pleasant
Last but not least: Dialogues
Negatives:
Redundant point at times
Lack of youth elements in 2nd half (Of course complete family oriented film)
Conflict point is not so great
Verdict:
' Sriniavas Kalyanam ' is another feel good movie which highlights the significance of traditional marriage. Director also establishes what healthy extended family relations could make a difference in our lives in present materialistic world. As this is a concept based film, towards the end the point becomes redundant and preachy. Overall, a Good and must watch film for family audience! We need to wait and see how youth will embrace this film.
Telugu360 Rating : 3/5
Release Date : 8th Aug, 2018
Director : Satish Vegesna
Music Director : Mickey J Mayor
Choreography : Sameer Reddy
Producer : Dil Raju
Starring : Nithiin, Raashi Khanna