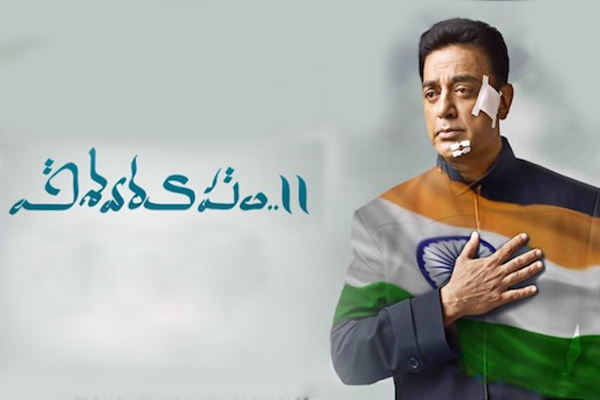 Vishwaroopam 2 Review Rating
Telugu360 Rating : 2/5
Vishwaroopam-2 is the sequel to 2013 spy thriller Vishwaroopam. Made on a staggering budget with good technical values, the film is getting the biggest release in Tamil, Telugu and Hindi languages. Let's find out what Kamal and his team have in store with this sequel.
Story:
This installment of Vishwaroopam continues where the first one ended. In this part, writer director Kamal tries to address the open-ended questions from the first part. Soldier- turned-spy Wisam Ahmed Kashmiri (Kamal) who foils the bomb attack in New York (Part-1), becomes the target for his former Al-Khaida associate Omar (Rahul Bose). Wisam, Nirupama (Pooja Kumar) and Ashmita (Andrea Jeremiah) along with intelligence bosses go to London where they're attacked by the Omar people. In second half, story shifts to Delhi where they were attacked again directly by Omar in-person. After some action, Omar gets defeated in the hands of Wisam.
Analysis:
First few minutes into the movie we feel that we're abound to see another edge of the seat thriller. Assassination attempts on Wisam (Kamal) team, Mission Impossible: Fallout style jump from the war plane, Flashback showcasing how an Indian soldier has been moulded as espionage agent, etc scenes come back to back and are interesting. However, our excitement shortlives. Within 30 minutes of the movie, the story and narration go haywire. Film takes directionless path, it becomes hard to understand what is going on the screen for whole one hour. At the interval, there is an under-water scene which doesn't match the hype generated about it. A 90-minute-long first hour tests patience.
Second half opens as the story shifts to Delhi. First few scenes are dedicated to sentiment scenes between Kamal and Waheeda Rahman. Meanwhile, Omar kidnaps both nirupama and ashmita. At this point there are few action bits, one with afhghanistan flashback was good. The climax is rushed, one will get a rushed-up feel. Overall, the slick action episodes which made Vishwaroopam-1 a success are missing in second installment. On top of it, directionless story causes more disappointment
Performances:
Veteran actor Kamal Hassan performance stands out in a scene with his mother (played by Waheeda rahman). Apart from that, in action sequences he worked hard without dupe. In Telugu version he dubbed himself neatly. Pooja Kumar and Andrea Jeremiah add glamour to the spy wife, associate roles. Shekhar Kapoor as Kamal's boss is a good fit for the role. Rahul Bose is menacing as Omar. Jaideep Ahlawat played a smaller role as Salim. Waheed Rahman played as alzheimer's suffering older woman.
Positives:
First twenty minutes is interesting
Afghanistan flashback episode
Star casting
Kamal Haasan and other casting performances
Negatives:
Directionless story, screenplay
Poor dialogues
Lack of exciting action episodes
90 minutes dragged first half
Verdict:
Vishwaroopam2 is a disappointing sequel. 90 minutes stretched first half is a patience testing one, action episodes in this installment are of lesser scale compared to its 2013 installment. On a whole, this film is no match to its predecessor. Kamal Hassan's efforts invain in this film.
Telugu360 Rating : 2/5
Release Date : 10th Aug, 2018
Director : Kamal Haasan
Music Director : Mohamaad Ghibran
Choreography : Sanu Varghese‎
Production company : Aascar Films PVT. Limited, Raaj Kamal Films
Starring : Kamal Haasan, Pooja Kumar, Andrea Jeremiah
Telugu360 is always open for the best and bright journalists. If you are interested in full-time or freelance, email us at
Krishna@telugu360.com