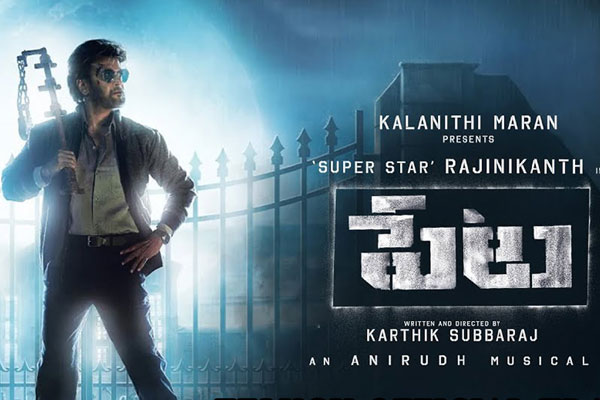 Petta review, peta review
Telugu360 Rating 2.5/5
Story:
Kaali (Rajinikanth) joins as a hostel warden in an educational institution. He wins the hearts of the students by eradicating ragging gangs, poor quality food supplying contractor etc. The reason why such a powerful man joined as a warden is revealed 2nd half. Set in Petta, Petta Veerudu supports an inter religion marriage in simhachalam (Nawazuddin siddiqui) family. Angered Simhachalam kills Kaali family and escapes to Uttar Pradesh. Rest of the film revolves around how Kaali takes revenge on simhachalam who turns a mafia don in UP
Performances:
This film belongs to Rajini out and out. Rajini's vintage mannerisms like Cigarette smoking, flicking of hair etc are revisited with added class touch. The result is superb for fans as they can see their idol Rajinikanth's swag after a while. After Rajini it is Vijay Sethupathi ,Nawazuddhin who steal the show with their stellar performances. Simran and Trisha have very limited screen time, they are okay. ABobby simha played senior ragging gang leader in the college, he is adequate. Meghaa akash got a noticeable role
Analysis:
PETTA/ PETA has been made Rajini fans in mind. Right from the word go, director Karthik Subbaraj inserted scenes written aiming at showcasing Rajini's swag. He succeeds in bringing back Rajini's charismatic styles but entire first half there isn't a bit of story revealed. The simran – rajinikanth thread is pleasant, few scenes the way Rajini treats villains are very good. First half is just below the average bar. Second half starts with revealing flashback. For these type of films, an engaging flashback is very key to the success, and that is where this film falls flat. The cliched flashback takes out interest from audience mind, rest of the proceedings in UttarPradesh seem farcical.
Second half is boring and prolonged in length. The derailed pre climax and climax scenes test patience. However, the penultimate scene is good which explains 'Rajatantram' . This film is technically strong as music director Anirudh, cinematographer Tirru etc have delivered top notch work
Positives:
Vintage Rajini styles
Technical aspects
Two songs picturisation
Vijay sethupathi, Nawazuddin Siddiqui characters
Negatives:
Clichéd story, poor flashback
Boring second half, mediocre first half
Verdict:
PETTA is a film strictly aimed at fans, successfully caters them 'alone '. Petta has a clichéd story, adding salt to the wounds it has poorly made second half. Rajini's vintage mannerisms, his stylish looks are the saving grace in this high budgeted film. Except the core fans and masses, others may find this film disappointing. Young director Karthik Subbaraj couldn't make the cut.
Telugu360 Rating 2.5/5
Release date: 10 January 2019
Director: Karthik Subbaraj G.
Music director: Anirudh Ravichander
Cast : Rajinikanth, Simran