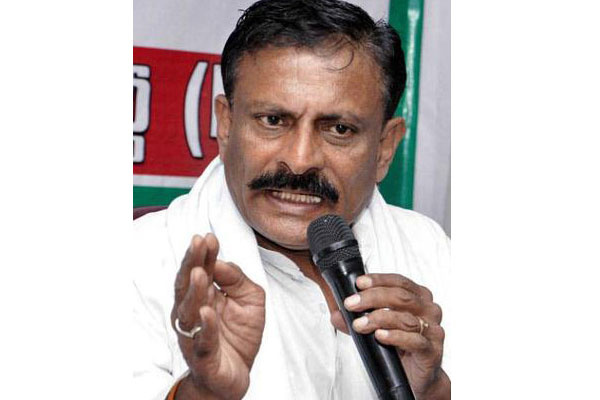 Former MLA and Rayalaseema Parirakshana Samithi president Byreddy Rajasekhara Reddy took the Rayalaseem issue to New Delhi to demand the national attention to the regions problems. Under the banner Jalasadhana Samithi, he held a massive dharna on Wednesday near Jantar Manatar and demanded that Prime Minister Narendra Modi should adopt all the four districts of Rayalaseema for their development.
He was not confident of getting its due share for Rayalaseema under present political dispensation. He said water rights of Rayalaseema were violated. Reddy demanded the linkage of Tungabhadra, Krishna and Pennar rivers as proposed in the Sir McKenzie Plan by the British, to permanently tackle the drought and water problem of the region once for all.
Talking about what was happening Andhra Pradesh, Reddy said the CM was interested more in Krishna and Guntur districts, metro rail and Capital development. " Where is Rayalaseema in his scheme of things," he said adding that this was reason for demanding the the Prime Minister to adopt the four districts of Rayalaseema.
Dismissing the loud talk of TDP that Pattiseema was meant to divert the Krishna Water to Rayalaseema, Byreddy said it was a lie and meant to cover up CM's original plan in taking up the project.
Rayalaseema leaders TG Venkateswh,Gouru Charita Reddy and others supported Byreddy's disksha in New Delhi.