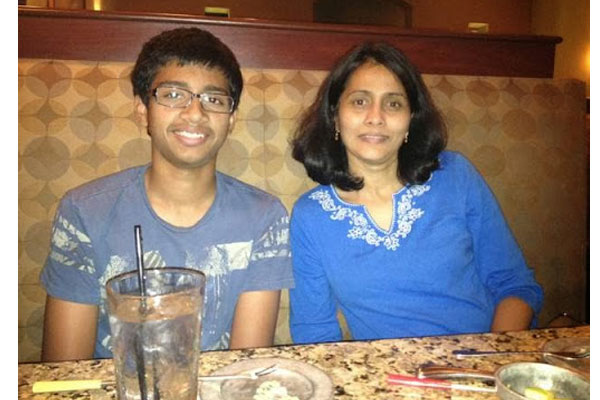 The Cary Police Department, North Carolina have arrested a seventeen-year-old Arnav Uppalapati for strangling his mother Nalini Tellaprolu to death.
As the incident unfolds, Nalini who works at Duke Medicine was all set to celebrate her 52nd birthday. On an unfortunate day of 17december,2015, she was found with a plastic bag on her head and feet inside a car strangled in the garage of the two-story home in her Roland Glen Road home. Arnav made a call to 911 and reported finding his 51-year old mother dead. Even the neighbour called the police. The autopsy report said, that Nalini's body was covered with multiple bruises and scratches on her face, neck, torso and arms, and cartilage in her neck was damaged. Based on the evidences found, the police arrested her son Arnav. The authorities have charged the seventeen-year-old with second-degree murder.
The police said, as he is under 18, the charge carries a maximum penalty of life without parole and not the death penalty. Police did not reveal any information on how the incident took place and the reasons behind the murder. The State Medical Examiner's Office has confirmed that her death is a murder.
The Police Chief Tony Godwin said, "Our thoughts are with Ms. Tellaprolu's family and friends as they continue to come to terms with their loss while facing the very tragic outcome of our thorough investigation". However, the police are expecting to get more information about the case from the people. The Chief said "We appreciate the community's continued support as we did our due diligence in making this arrest."
Telugu360 is always open for the best and bright journalists. If you are interested in full-time or freelance, email us at
[email protected]