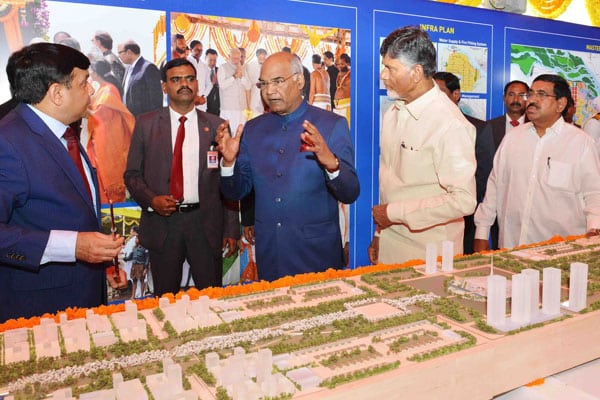 President Kovind showered praises on Andhra Pradesh government and CM Chandrababu Naidu for the technological advancements made and adopting the technology in various initiatives taken by state government. Rashtrapati Bhavan, in a series of tweets from its official twitter handle applauded AP government for being a leader in technology adoption. President Kovind inaugurated technology projects of Andhra Pradesh government like — Andhra Pradesh Fibregrid, Surveillance and Drone Project, Free Space Optical Communication system (FSOC). After the inauguration, President Kovind expressed happiness for AP government being visionary in the field of technology. Some of the tweets from Rastrapati Bhavan are as follows:
On internet connectivity: Andhra Pradesh State FiberNet Limited has promised broadband speeds of 15-20 Mbps for households and up to 1 Gbps for commercial institutions by 2018. Households will have access to the Internet, television channels, a telephone for a monthly fee of only Rs 149. From an expensive luxury even a decade ago, data and Internet access is today seen as a utility – as much a basic need as water, electricity and cooking gas. We are moving towards a plug-and-play system where it will be the norm for houses and office spaces to come pre-configured with broadband connectivity. Andhra Pradesh is attempting to realise that potential. In a sense, it has understood the future.
On Drone surveillance project: Happy to learn state govt is planning to use drones for providing Real Time Information for Governance. This will have multiple benefits – in security and policing, mining, urban development, raising agricultural productivity, anticipating natural disasters.
On governance, Capital city and Chandra Babu: We are moving towards a paradigm where tech is not just an optional add-on to governance – but more or less drives modern governance. In a 24/7 hyper-connected world, govts & administrations cannot afford to be reactive; they have to be online and on time. I have been told the Andhra Pradesh government centre is the biggest such in Asia and is virtually a state secretariat in cyber-space, providing several services to citizens. When state capital of Amaravati is fully constructed, it is expected to be most technologically compatible city in India — India's leading technopolis. People expect nothing but a quest for excellence from CM Chandrababu Naidu!
It is very happy moment for Telugu people to see first citizen of the country appreciating the efforts of the state government. There is no doubt that such open appreciation from President of India will have many more subsequent positive implications as the message conveyed will definitely speak volumes about the efforts taken by AP government. Such applause gives confidence to investors and further attracts investments into the state and that will have domino effect on the further developmental activities in the state.