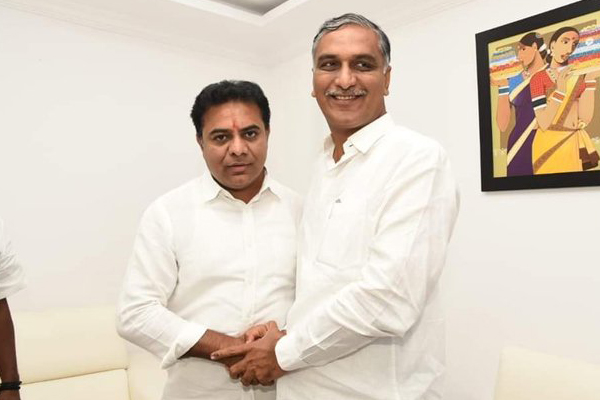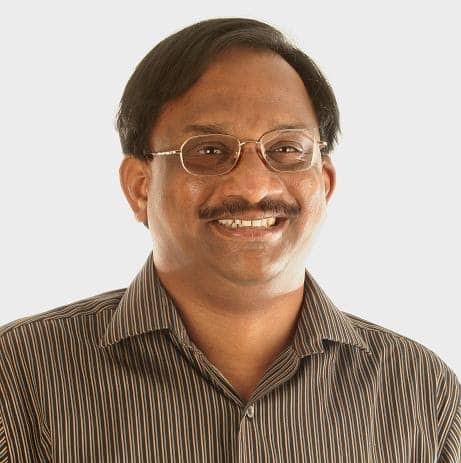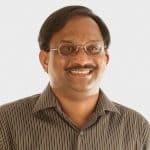 What was implicit all these years is now explicit. With the elevation of K T Rama Rao, son of Chief Minister, K Chandrashekhar Rao as the working President of the ruling TRS immediately after the Assembly elections, the process of succession in the TRS is now consummated.
Now that it is formal, the speculation is rife over the political future of KCR's nephew T Harish Rao.
Though there was no open fight between KTR and Harish Rao, it has been a spicy political aspect in the state not just in the ruling party but even in the society at large. The opposition has even tried to politically exploit this competition for KCR's legacy within the TRS to its advantage. More recently, in the thick and thin of election campaign, Congress working President, Revanth Reddy and the TDP leader, Revuri Prakash Reddy refered to the alleged political isolation of T Harish Rao ever since the efforts to anoint KTR has begun with greater pace. However, the shrewd politician in T Harish Rao was more than cautious to not to give any impression of his disappointment.
At one point of time, there was even speculation that in the wake of a hung Assembly, Harish Rao would lead a revolt in the ruling TRS to join hands with opposition to frustrate the efforts of his uncle and the TRS president, KCR to hand over the mantle of leadership to his son KTR.
To be fair Harish Rao and KTR, the duo left no stone unturned to send a message that they are together under the leadership of KCR. In fact, frustrated by the growing reports of his disenchantment with the way things are turning out in TRS, Harish Rao in a television interview said that he has no problem to work under the leadership of his cousin, KT Rama Rao. But, such a talk is quite common in politics till something unprecedented and unusual turn takes place, opined political observers and rival party leaders alike.
T Harish Rao was known for his political proximity with his maternal uncle much before K T Rama Rao plunged in politics. Harish was made a minister by KCR even when he was not a legislator. This was the time when the TRS joined the Congress led governments both in the state and the centre in 2004.
T Harish Rao with his powerful political skills earned the reputation as the trouble shooter within the TRS and was KCR's first choice to execute even difficult political tasks delegated to him. His electoral career is also highly impressive as he breaks his own records in every election. This time too he won the Assembly elections with over one lakh majority which even KCR or KTR could not secure. Within the KCR cabinet, he was given the all important portfolio of irrigation and proved to be quite effective in his ministerial responsibilities.
Thus, KCR never undermined Harish Rao's role within the party or government. Everything went well till the question of who will succeed KCR came to the fore. With KCR repeatedly expressing his willingness to enter national politics, resolving this question became much more urgent. Only in the recent past things were quite apparent that all is not well within TRS especially when it comes to the role of T Harish Rao.
K T Rama Rao started playing more important role ever since KCR assumed the Chief Minister's throne. The priority given to KTR is evident both for the bureaucracy and the party. There were reports of Harish Rao's role curtailed within the party affairs. Unlike in the past KTR was given important political responsibility of election management. KTR single handedly led the TRS to a landslide victory in the elections to Greater Hyderabad Municipal Corporation (GHMC) which is considered to be a complex task. KTR surpassed all expectations by delivering more than expected result to the party, his father and the state as a whole. In the recently concluded Assembly elections, KTR played much more important role as compared to Harish Rao in selection of candidates, campaigning and even in pacifying the rebels. Harish Rao was also brought in as a star campaigner along with KCR and KTR only after opposition started taking advantage of the affairs of TRS. Harish Rao not only was in the forefront of the campaign and attack on opposition but worked hard to dispel any notions of he being sidelined.
But, with the appointment of KTR, the cat is out of the bag. Harish Rao has to reconcile with the political reality that his cousin and Chief Minister's son would be the heir apparent whatever may be his seniority and political acumen.
The manner in which KCR installed his son leaves little manoeuvrable scope for Harish Rao at least for now. KCR perfectly chose the timing to declare to the world that his son will succeed him. The leadership is much more invincible. KTR has proved his mettle many times. He will be asked to do so yet again in the Loksabha elections in his capacity as working president of the party before assuming the role of Chief Minister after his father makes a foray into national politics.
Thus, T Harish Rao has to reconcile to the reality of India politics that son succeeds. Given his abilities nothing could marginalise him in TRS as long he reconciles to the reality and decides to work under KTR.
Secondly, he can also move to national politics to assist his uncle. But, KCR 's daughter is already in Parliament and is known for articulation both in English and Hindi which is key qualification in national politics.
Otherwise, T Harish Rao has to wait for a political opportunity to prove his indispensability only when and if any such opportunity knocks his door. Finally, the risky option of floating yet another regional outfit or joining some other party to lead an open revolt on his uncle. But, nothing of that sort seems to be imminent at least for now.
( Prof.K. Nageshwar is India's noted political analyst. He is a former member of the Telangana Legislative Council and professor in the Department of Communication & Journalism, Osmania University, Hyderabad, India )
For More Insights: https://www.youtube.com/watch?v=nB0rdQTtGkY
Telugu360 is always open for the best and bright journalists. If you are interested in full-time or freelance, email us at
Krishna@telugu360.com