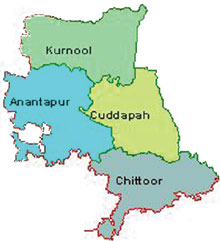 Chief minister Chandrababu Naidu appears to have shifted his focus on Rayalaseeama. Wednesday was the day of Rayalaseema in AP secretariat.
For the past few months, the region is not all in the news, except for looming drought in wake of failure of monsoons to bring enough rains so far. This region's Anantapur district receives lowest rainfall in India, after Jaisalmer.
There has been growing resentment among the leaders of R'seema that Naidu is giving short shrift to the region just because his TDP did not get enough seats from the region. YSR Congress and Congress have raised the banner of revolt to highlight governmental apathy towards the region. Oppositon leader YS Jagan toured the region in the name Odarpu yatra. AICC general secretary Rahul Gandhi toured Anantapur  and distributed financial assistance to family members of those farmers who committed suicide, all this happened while Naidu was busy with Pushkaralu.
Both parties are planning a movement, though separately, for the allocation of more funds for the early completion of Galeru-Nagari and Handri-Neeva projects.Congress seniors DL Ravindra Reddy and C Ramachandraiah have called upon people of Rayalaseema to take to streets to fight for the rights of the backward region, "as the TDP government is reneging on its promises made to Rayalaseema."
While the Opposition parties have been more visible in region, governmental activity is conspicuously absent.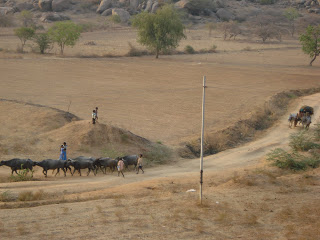 Rubbing salt to the wound,  for the past one year, coastal Andhra, because of the development of high profile capital, business conclave in Vizag, Godavari Pushkaralu, tours of Singapore teams etc,  has attracted an envious attention.
Naidu seems to have realized the political ramifications of these lopsided developments.
He devoted most of Wednesday to Rayalaseema.
He held a video conference with the collectors of Anantapur, Chittoor, Kurnool and Kadapa districts and inquired about the progress of ongoing irrigation projects in the region.
Chief Minister directed the officials to complete all the unfinished works of Handri-Neeva Sujala Sravanti (HNSS) phase-II by December 2015 as the project is key to store Krishna waters, which will be brought to Rayalaseema after the completion of Pattiseema Lift Irrigation Project, aimed at diverting Godavari waters to Krishna Basin. He also ordered the officials to ensure that
Galeru Nagari Sujala Sravanti (GNSS), Telugu Ganga and Srisailam Right Branch Canal, be completed at the earliest.
Interestingly, the State government also announced an interim special package with an amount of Rs 49.5 lakh to support the families of 33 farmers, who had committed suicide in Ananatapuramu. Is it not Rahul effect?
YSRC has fired the salvo that without completing either the Handri-Neeva Sujala Sravanti (HNSS) or Galeru Nagari Sujala Sravanti (GNSS) project, how you divert Krishna Waters simply by finishing Patti Seema.
He gave Collectors, Engineer-in-chiefs and Chief Engineer's extraordinary powers to expedite the completion of works od the pending projects.