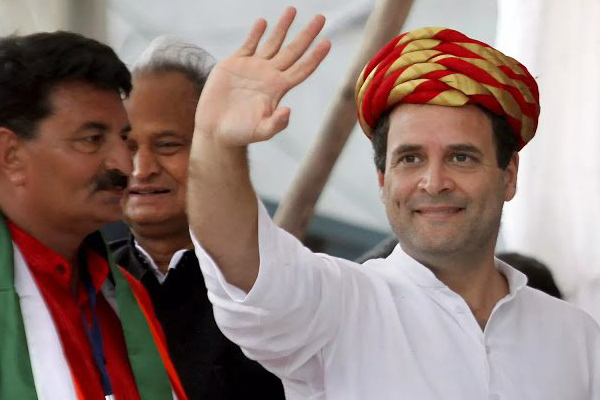 Congress National President Rahul Gandhi addressed a public meeting at Bhainsa in Nirmal area in Adilabad district today as part of his election campaign for December elections in Telangana.
He made a scathing attack on both the KCR government in the state and at the Modi government at the Centre. He made a fervent appeal to voters cutting across all sections of society to oust KCR and Modi from power in the coming 2018 early polls and later 2019 general elections.
Strongly criticising KCR in Telangana, Rahul Gandhi said that TRS chief has promised to place authority in the hands of a dalit but later he brought 'family rule' in the state by deceiving the poorer sections. It is KCR's family that is responsible for unchecked corruption in Telangana now which is causing lot of problems to ordinary people, he said.
Rahul said KCR had failed to fulfil his promise of giving one job per household, three acres land to the poor families, 12 per cent reservation to muslims minorities, 2 crore jobs per year in the state and double bedroom flats for poor.
Rahul accused PM Modi of taking a U-turn in his well-known assurance to work like a watchdog for the people but instead the prime minister is acting as a watchdog to serve corporate heads. The Congress President said Modi has passed benefits worth Rs. 30,000 crore to his friend Anil Ambani. Modi would have to bear the entire blame for purchasing each jet fighter at Rs. 1,600 cr as against its original cost of Rs. 548 that reflected lack of responsibility to people's money, Rahul said.