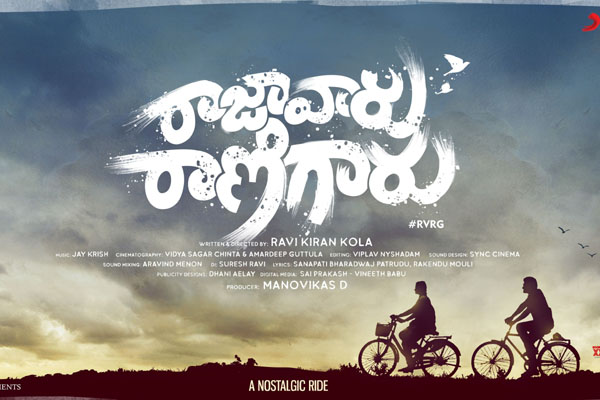 Raja Vaaru Rani Gaaru Review
Telugu360 Rating 2.25/5
One small-budgeted film that made quite a pre-release buzz in the recent times is 'Raja Vaaru Raani Gaaru'. With its cool trailer, the romantic drama has caught the attention. Is it worth the hype?
Story :
Set in a lush green village called Ramapuram, it is a love story of a timid person who has the inability to express his feelings. Raja (Kiran Abbavaram) likes Rani (Rahasya) since childhood. His fascination towards her grows as they age. One day, Rani leaves the village for an engineering study. Heartbroken Raja tries to find her whereabouts in vain. A couple of years later, she comes back to the village. Will he muster the courage to tell his love this time?
Analysis:
At the outset, 'Raja Vaaru Rani Gaaru' looks refreshing because the movie is set in a lush green rural area of the Godavari region after a long time. Moreover, in the age of bold love stories and urban dramas, this draws us into its simple tale, a time-tested story of first love.
Raja likes Rani. What is a big deal in that? Well, nothing. He has the inability to express his feelings and he also waits for her for years to come back. Remember Pawan Kalyan's 'Tholi Prema'. Yes, this is repackaging of 'Tholi Prema' in a rural setting. But this old tale again works to some extent due to its comedy in the first half of the movie. The fun banter between the hero and his buddy is hilarious. Then there are a couple of soothing songs. What else is there? Nothing. That precisely is the problem.
The simple tale is stretched beyond a point and it turns boring after a point as the movie doesn't move further. Also, it is illogical to think that today's young boys take a year's time to express their love. It made sense 20 years ago. Not anymore. Plus, the lead pair utterly lack any chemistry.
As far as performances are concerned, the newcomers have done an okay job but the don't have that zing. Music and comedy writing is its plus. Cinematography is eye-pleasing.
Positives:
Comedy and music
The first half
Negatives:
Predictability
Over the top scenes
Wafer-thin plot
Old-style scenes
Verdict:
Simplicity and comedy portions have worked, but 'Raja Vaaru Rani Gaaru' doesn't engage us totally as its plotline at best suits for a short film. Stretching the thin story to two-hours time has diluted the effectiveness.
Telugu360 Rating 2.25/5