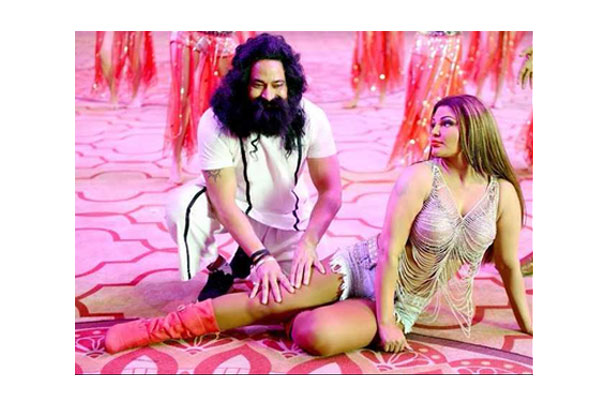 Rakhi Sawant has been in headlines (yet again) for coming up with a biopic on Dera Baba Gurmeet Ram Rahim Singh. She will be doing the role of Honeypreeth in that movie. She made sensational comments on Gurmeeth as well as Honeypreeth recently. She claimed that she has seen Baba having Viagra in his room. Also she told, Honeypreeth feared about Rakhi taking her position.
Rakhi, the queen of controversy elaborated -"I was once invited to the Marriott to meet Ram Rahim by his secretary and guess what I saw in Baba's room? Viagra! What was Viagra doing in a Baba's room? I got shocked ", Says Rakhi. Speaking on Honeypreeth, the adopted daughter of Singh who's currently absconding, Sawant said, "I have known Gurmeet Ram Rahim and his adopted daughter Honeypreet since last three-and-a-half years and met them on several occasions during this period. I once went inside the cave built in the Dera premises. Gurmeet had invited me on his birthday". "I realized that Honeypreet was uncomfortable seeing my close proximity with Gurmeet and even feared that I may become Baba's wife by marrying him." she said.
Rakhi also revealed that many Bollywood personalities have links with this Baba. "I've personally introduced them to Hrithik Roshan. I've pictures of Baba, Honeypreet and Hrithik together", she told. Seems, by the time this movie releases, Rakhi will have more and more of such controversial statements!!!