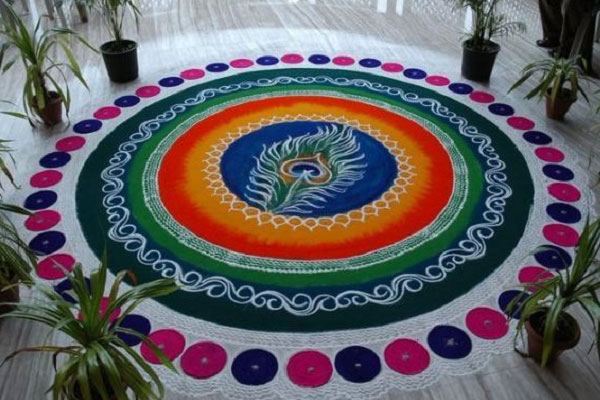 A Government Order directing officials to organise Rangoli's on the eve during the ongoing Janma Bhoomi – Maa Vooru (JBMV) is brewing resentment among official machinery. Some of the younger civil servants in the administration question the rationale behind engaging the entire administration in such activities at the cost of serious administrative affairs.
Hyderabad: Resentment is brewing among the civil servants in the government machinery following a recent government order directing them to organise Rangoli Competitions. The GO in question directs the district collectors, to hold Rangoli Competitions at district, Mandal and Villages levels during the ongoing JBMV programme.
Calling the JBMV, a people-centered programme being organised in all villages and wards across the state, the order said that the government had decided to organise Rangoli Competitions, every day during the JBMV programme at the village level. The winners at village level would again take part in a similar competition being organised at Mandal Level. And, for the winners at Mandal Level, there will be a District Level Competitions on Sankranthi day, scheduled to be held on January 15. The winners then will be presented awards.
For this, the District Collectors were asked to prepare schedules for village, mandal and district level competitions. They were also directed to conduct functions at all levels in association with the departments concerned.
"Such directions only make administration engage in the management of events one after another. It distracts the official machinery from its serious day-to-day administration," felt a young civil servant from Srikakulam district.
Due to the 3rd round of JBMV the entire administration has been engaged in organising meetings and asset distribution and the like. Officials were not able to clear even the urgent files laying on their tables. Adding to this, there would be an everyday review meeting on the conduct of the JBMV. So, on one hand the officials right from village level to district level will have to attend different meetings of JBMV, and on the other, to prepare material to provide feedback by evening.
Amidst of such hectic schedule now the government is asking to organise Rangoli Competitions. If this is the case, "the days are not far that the government administration would also be asked to organise Anthyakshari Competitions," criticised another revenue official from West Godavari district.
The GO has asked the Secretary, department of Tourism and Culture to coordinate the competitions at all levels during the JBMV. But, except to the tourism department, the culture department does not have any separate staff for it at district, mandal and village level. So, again the burden will fall on revenue officials, and the police will have to provide security, he added.
Tracing the govenrment's interference in such activities of cultures and traditions of the people, another senior official pointed out that it was all began following the neighboring Telangana state organizing  Bathukamma Festival, on grand scale declaring it as a state festival, he added.