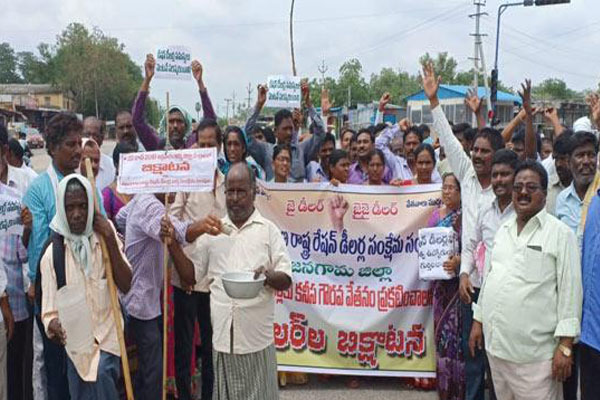 In the last one month of Jagan rule, even though some decisions of Jagan have been appreciated, some other decisions have been receiving criticism from people. One such decision is removing the system of ration dealers in the state and giving that responsibility to grama volunteers.
Why ration dealers are against this decision?
Obviously, they will lose livelihood. In fact, Jagan's decision of abolishing this system came as a surprise to them. Jagan never told before elections that he will remove ration dealers system. The only politician in AP who spoke about abolishing this system to replace it with Direct cash transfer (before 2019 elections) was Pawan Kalyan and immediately after Pawan' statement, Ration dealers demonstrated their displeasure with that statement. They voted Jagan as they thought he will retain the system as he never spoke of abolishing ration dealer system. But within a month after winning the election, Jagan taking such decision came as a rude shock to them, especially given the fact that most of them voted for Jagan.
Ration dealers call for protest at CM's residence, arrests:
Meanwhile ration dealers gave a call to protest in front of CM Jagan's residence at Tadepally. Just before they were starting to CM's residence, police got alerted and gave notice that they don't have permission to demonstrate in front of CM's residence. Police even arrested some leaders of the group at Nandigama, Krishna district before the issue escalates. Ration dealers association president Srinivasa Rao condemned the arrests and told that they just wanted to give a petition to CM to reconsider the decision.
Other ration dealers, who spoke to media said that they were physically handicapped and working as ration dealer for quite some time and Jagan's decision of abolishing this system (as per reports) is a jolt to them.
Why people also against the abolition of Ration dealer system:
Not only ration dealers, but people also against the decision of abolishing ration shops. They argue, by abolishing this ration shops and giving the responsibility to Grama volunteers, Jagan is only concerned about his party cadres getting some jobs as Grama volunteers but not the welfare of public. They worry that these Grama volunteers, who will be YSRCP workers, may behave biased towards the people who are supporters of other parties. They worry that these YSRCP volunteers may write 'Door closed' or any other such silly reason for not delivering goods to the supporters of other parties. Even though their worries look silly at this point, they are not really completely wrong.
Overall, Jagan needs to come up with concrete solution. If he really wants to abolish the ration dealer system, he has to allay the fears of ration dealers as well as common people by announcing clearly chalked out plan.