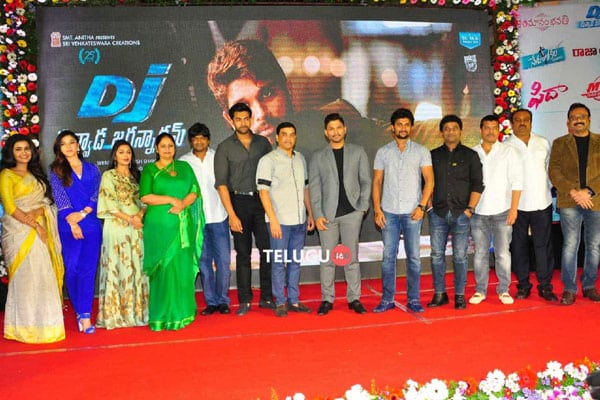 Producer and distributor Dil Raju held a mega event to mark the success of six movies in a row in 2017. Though some yesteryear producers did the feat of delivering 6 hits in a calendar year, in the current generation it is Dil Raju who could pull this unique stunt in Tollywood.
However, is this reason sufficient for Dil Raju to celebrate? Dil Raju has delivered successful movies like Shatamanam Bhavati, Nenu Local, DJ, Fidaa, Raja The Great and MCA. The movies like Fidaa and Shatamanam Bhavati are genuinely hits and in addition they received wide critical acclaim. But other movies like Nenu local, MCA and DJ are completely mediocre. Moreover, DJ movie has drawn some controversy on the premise of reporting fake collections. Other movie "Raja the great" had a novel premise like hero playing a blind role through out the movie. But the director didn't utilize the opportunity to deliver a brand new story. He just delivered a regular commercial potboiler. In addition to these 6 movies, Dil Raju also presented "Jawaan" movie that also fared average.
Dil Raju was originally a distributor turned producer. He used to have very high success rate as disributor. But 2017 seem to be very bad year for him as distributor. Movies he distributed like – Om Namo Venkatesaya, Spyder, Jai Lava Kusa, Mahanubavudu, Cheliya, Gautam nanda – also not fared well. While JLK was above average, Mahanubhavudu was reasonable hit, ONV, Spyder, Cheliya and Gautam Nanda were disasters.
So overall, Dil Raju received disasters as distributors, as producer he scored decent hits. But except two, other movies he delivered are very mediocre. Though TFI delivered one Bahubali, rest of the movies made in Telugu are mostly mediocre. While Tamil makers delivering "out-of-the-box" movies like "Aruvi", "Aramm" that are made with low or medium budget and yet commercially successful, Telugu makers are delivering strictly formulaic movies and celebrating the successes. We can't ask film makers to pour their money into art films but the producers who have very good infrastructure and network are expected to make at least one "out of the box" and yet commercial movie after couple of commercial potboilers.
Dil Raju has strongline-up of movies for 2018 – Mahesh Babu with Vamsy Paidipally, Anil Ravipudi movie (with Venkatesh and Varun), Ram movie, Nitin movie (Srinivasa Kalyanam with Satish Vegesna), harish Shankar movie (Dagudu moothalu), varun tej movie (with a new director), raj tarun movie (with Anish Krishna of "Ala Ela" movie)
In the industry that has 2% success rate, scoring a double hat-trick is definitely a great feat. But delivering routine and regular films one after another that are not remembered even after one year of release doesn't make him a great film maker. People want to see Dil Raju a great film maker, not just a successful film maker who delivered routine and yet successful movies. We have to wait and see if all of these also going to be regular commercial films or at least some of them are going to have a new scripts!!!