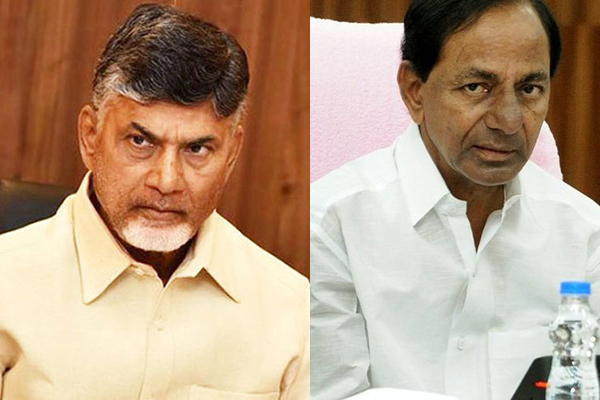 Suddenly Telangana Rashtra Samithi (TRS) supremo and Telangana chief minister K Chandrashekhar Rao and the pink party leaders turned silent about Telugu Desam Party (TDP) and AP chief minister N Chandrababu Naidu. No one from the pink party is neither questioning nor criticizing the TDP party, however, there's a continuous effort from KCR behind the screen, observe political analysts, who attributed the reason for TRS strategic silence to fear of backlash amid strong sentiment across Andhra Pradesh.
With Amaravati capital city getting a proper structure, Andhra voters have turned keen on the development front. In addition to this, several projects are nearing completion in the state. For instance, Pattiseema Lift Irrigation project has turned out to be a boon to drought-hit Rayalaseema. Anantapur district is receiving water. Moreover, Naidu has been implementing several welfare schemes for farmers, women, old-aged people, minorities and backward sections. This created a positive atmosphere among voters, observed political analysts.
"Considering this, TRS has realized that any criticism on TDP or Chandrababu Naidu will result in backlash similar to what happened in Telangana when Naidu campaigned. If TRS leaders or KCR criticize Naidu or campaign for YS Jaganmohan Reddy, then it'll definitely benefit TDP only. Realizing this, KCR and TRS are maintaining a low profile now. However, they're doing their best from backdoors. For instance, TRS is influencing cinema stars and Andhra businessmen in Hyderabad to campaign for YSRCP," added the analysts.
Moreover, it's learned that TRS is also influencing several factories and business houses run by Andhraites in Hyderabad to order their employees to vote for YSRCP.
On the other hand, YSRCP chief YS Jaganmohan Reddy is opening questioning that what's wrong if KCR supports him. YSRCP is also not criticizing BJP in its poll campaigning. Meanwhile, TRS working president KT Rama Rao has been saying that TRS will win 16 MP seats in Telangana and YSRCP will also support them in Federal Front mission at the Centre. Considering all these equations, which party will win the hearts of Andhraites can be known only after elections. Now, the ball is in the court of Andhraites.