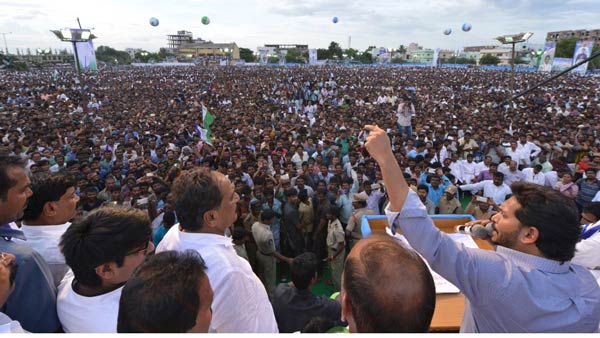 The special attraction at C Ramoji Rao grand daughter's wedding last week was the presence of the opponent Y S Jagan Mohan Reddy. While it could be termed as courtesy call, it did give rise to several discussions. Known to be arch-rivals, the media barons are being more cordial to each other which is evident from their regular interactions at several functions. However, one significant change is the coverage the Opposition leader is getting in Eenadu in recent times.
The media house which had a tag of being inclined to TDP and NDA is unexpectedly publishing stories about Jagan. Previously, one would need a lens to find an article underscoring Jagan in the paper. However, the direction of the winds seemed to have changed, especially with Eenadu putting Jagan's speech as front page banner item. Be it the YSRCP Plenary sessions last month or Nandyal public meeting on Thursday, Eenadu's coverage had raised several eyebrows in disbelief. The coverage has been reportedly way better than Jagan's own Sakshi.
This is a bombshell for the ruling TDP especially with the channel and newspaper continuing to give weightage to Jagan. While the TDP leaders keep wondering the reasons for Eenadu to promote Jagan, it is definitely a relief to the readers.
Is Eenadu gearing up for future winds and adjusting its sails now? Is it Modi meets Jagan after effect? Hope, Eenadu's choice of covering Jagan reflects hopes and not fears.