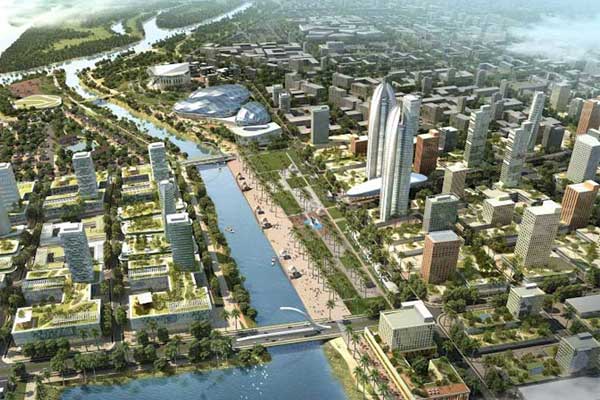 Engineers across India are celebrating Engineers Day today Sept15 as a tribute to the greatest Indian Engineer Bharat Ratna Mokshagundam Visvesvaraya with the theme "Role of Engineers in a developing India"
Andhra Pradesh leaders proudly boast of how wherever in the world they go, they find Telugu people being successful. Chief Minister Chandrababu Naidu and his son and minister Nara Lokesh have repeatedly spoke of the greatness and talent of their countrymen.
But when it comes to designing of the capital Telugu Desham Government has ignored the indigenous talent and left it to the London based firm. What is the Role of Engineers in a developing Amaravati? Well hardly any! Engineers and Architects from Singapore, England, Netherlands, Switzerland and any other country have a role in construction of the new capital but indigenously none.
The CM wants the architects to take inspiration from the top ten structures along with a regional touch. It is evident that the Chandrababu wants to leave a legacy, but he is apparently bidding on the wrong people. First it was Maki associates from Japan and then filmmaker S S Rajamouli. The director was modest enough to accept that he is not qualified for the work.
There is a difference between creating imaginary city like Mahishmati which looks appealing and a new capital Amaravati. Any Telugu person with extensive knowledge in history and good approach in designing a film set is not a qualification to be an architect for the capital city.
If Kanuri Lakshmana Rao is remembered as engineer of Nagarjuna Sagar because he knew his work well. If we are applauding Visvevaraya today, it's because the person who appointed him knew he was qualified. Chandrababu wants to celebrate Satya Nadella and Sundar Pichai but doesn't want to create such people.
The aspirations of the CM are not impossible to do, but Chandrababu should take a cue out Nizam ruler who entrusted the responsibility in Visvesvaraya to design the flood protection system for the city of Hyderabad. 100crore reward money for Nobel prize winner will not inspire a student, but a leader who trusts his engineers and scientists will.
Telugu360 is always open for the best and bright journalists. If you are interested in full-time or freelance, email us at
Krishna@telugu360.com