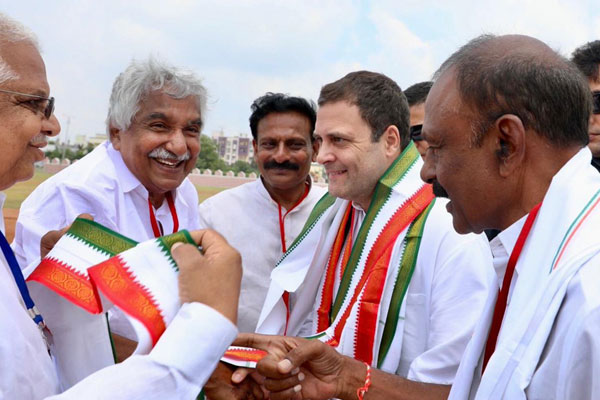 As expected, there's nothing that is unexpected during the ongoing visit of Congress President Rahul Gandhi in Kurnool district here in AP on Tuesday.
He once again promised the same old promise of conferring the special status on AP immediately after coming to power in the 2019 elections.
He also praised a lot the now-friendly TDP government in AP saying that the successful implementation of Self Help Groups activities here would be inspirational for the rest of the country.
Rahul said all this during an interaction with the students and the youth at a programme held at Byreddy Convention Centre.
The present visit comes amidst lot of anticipation and expectations among the existing small number of leaders and cadres for recapturing the past glory.
In the 2014 elections, the Congress suffered severe losses as even big stalwarts lost their deposits.
Clearly, they tasted the wrath and bitterness of the AP population after the hasty state division despite widespread agitation.
The Congress leaders were also hoping to activate the cadres after Rahul's visit and launch "Intintiki Congress" (door to door) soon all over the state.
Congress AP President N Raghuveera Reddy has revived the slogan that their party would have a tie-up with the people to defeat the rival forces.
Meanwhile, no agreement is reached over seat sharing between Congress and TDP in Telangana so far.
TDP is demanding over 30 seats while the Congress was ready to give less than 15. There are a total 119 seats in Telangana.
G. Ravikiran