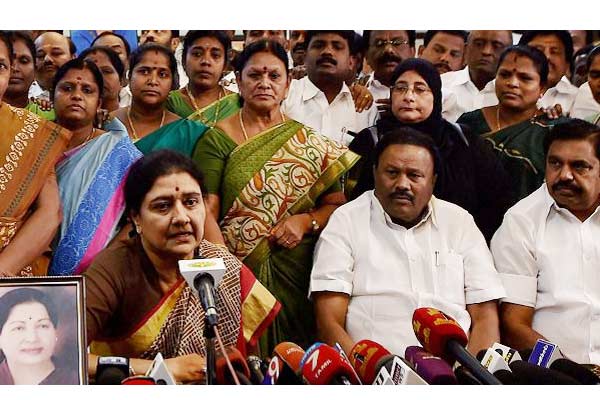 The future of V K Sasikala who was fighting a bitter power battle with interim Tamil Nadu Chief Minister O Panneerselvam (OPS) has been decided by the Supreme Court. The court has convicted AIADMK general secretary Sasikala in a two decade long pending disproportionate assets case. She now has to serve four year jail term and will not be able to contest elections for 10 years or hold public office.
OPS who took charge of the state after J Jayalalithaa's demise in December, had challenged Sasikala over the chief ministerial position. Sasikala has come up with "plan B" to check him by appointing influential minister Edapaddi K Palanisamy as the party general secretary and expelled the interim CM from primary membership of the party.
OPS faction is expecting that most AIADMK MLAs would soon jump his ship. But Sasikala's presence cannot be erased completely. She can file a review petition which can do hardly anything to her jail term. However, she has Jayalalithaa's legacy to claim and can easily take over the party after 4years. She can run the show from jail, as Palanisamy to Sasikala could be what OPS was to Jayalalithaa.
OPS group of supporters are countable on fingers. Even if the governor asks the interim CM to prove majority, he will not be able to form the government even if he gets some more migrators. He needs a huge majority and if he is backed by DMK, he becomes a traitor. However OPS had a problem with Sasikala and even earlier claimed that if not he, someone deserving should become CM. Palanisamy's community won 45seats in the elections and he has enough administrative experience as well.
Speaking of the majority of AIADMK legislators supporting Sasikala, today OPS said, "It is up to the MLAs to resolve the crisis. I urge everyone to forget the differences and unite". Likewise, he should aim to keep the party united now and avoid sounding desperate for power like Sasikala. She even tried to rope in the Deepak nephew of late chief minister J Jayalalithaa as the CM candidate to continue the legacy of Jayalalithaa. However Deepak seemed least interested. OPS earlier claimed that he is open to take support of Deepa. Being the Chief Minister of the second biggest economy in India is not easy for any proxy that Sasikala will leave behind who can match the new found star OPS. Sasikala is the first politician to be convicted by the Supreme Court in Tamil Nadu for corruption, who is at the end of her political career as the jail will be in Karnataka and has to stay away from politics for 10years.
Jayalalithaa had to face two elections to establish herself, however, OPS has only few hours to convince MLAs before Governor calls him for floor test. Once the government is formed, he will have four years to establish himself. However, the interim CM has to face a tough future and the only big thing for him is that he was appointed by Jayalalithaa twice. It is close to impossible for him to have the mass appeal like Jayalalithaa and the party will soon start eroding. Also he may not have the strong control that the former chief minister had over the party. He will face anti-incumbency and will have to face the wrath of rebellions.
Telugu360 is always open for the best and bright journalists. If you are interested in full-time or freelance, email us at
[email protected]