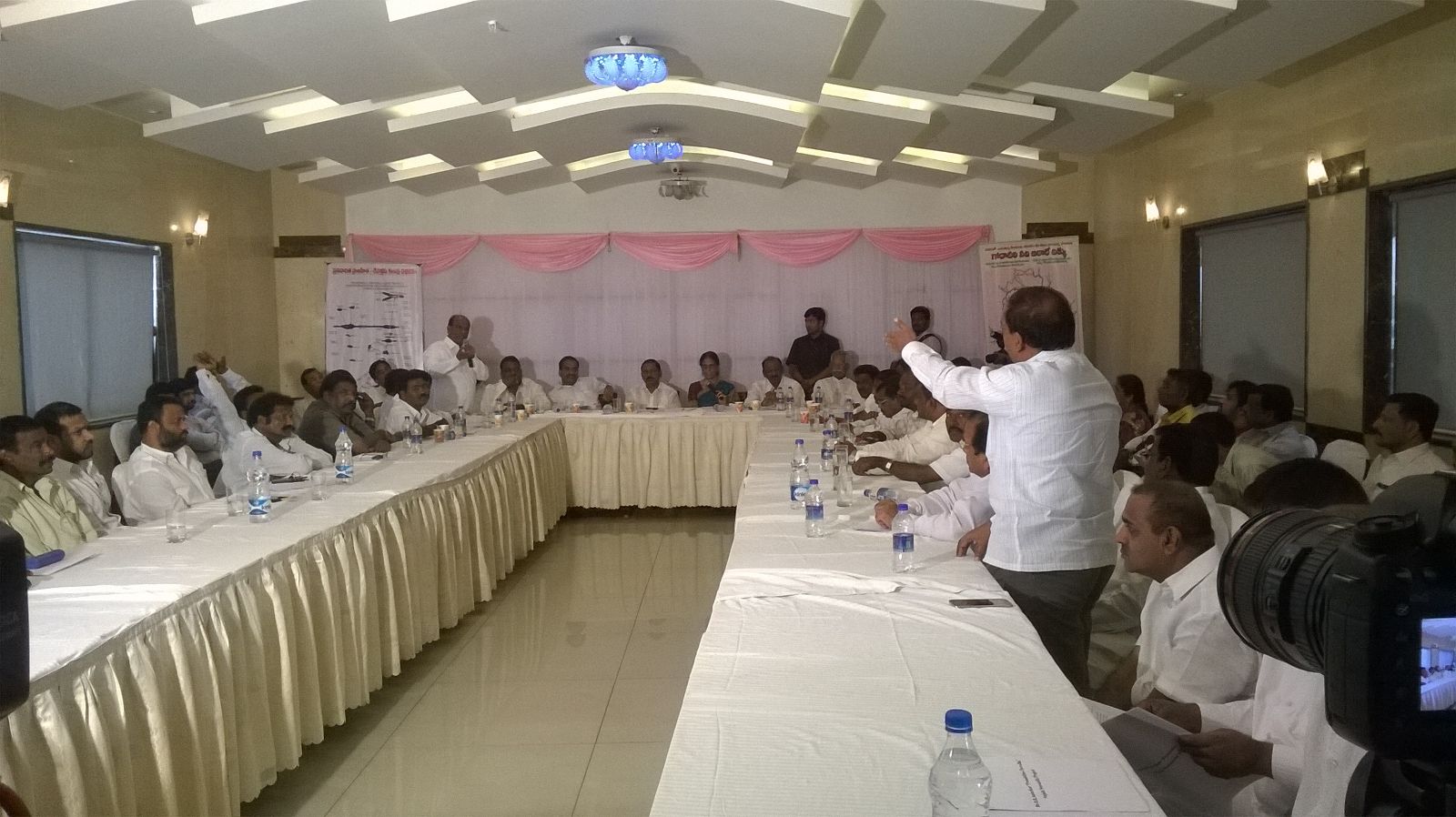 All opposition parties in Telangana have decided to oppose the TRS government move to abandon the Pranahita-Chevella, which is intended to supply water to seven districts,and drinking water to Hyderabad. All parties- Congress, TDP, CPI, CPM, BJP and YSRC-today gave a call to stall the ensuing Assembly session to force the government to withdraw the decision to scrap the present design of the project.
They have decided to visit the project on August 17. The meeting of all parties strongly felt that KCR had been vindictive against Ranga Reddy district because of political reasons. They have given a call "Save Ranga Reddy district from the nefarious designs of chief minister KCR".
All parties felt belittled as KCR was refusing to take them into confidence on any controversial matter such as Pranahita-Chevella.
Pranahita-Chevella has become the rallying point for the opposition parties in Telangana like the Special status in Andhra Pradesh. Telangana opposition parties, however,have moved a step forward to organize an all-party meeting held in Sitara Grand on Friday in Hyderabad.
The meeting was attended by former home ministers Sabitha Indra Reddy,G Prasad Kumar G Sudheer Reddy, Rammohan Reddy, K Srisailam, Congress farmers' wing leader Kodanda Reddy (all Congress),S Mall Reddy (CPM) Raghavareddy (YSRCP), Prakash Goud (TDP), Ramachadra Rao (BJP), Shivkumar (YSRC) etc. The leaders felt that the Pranahita-chevella projet was lifeline for Ranga Reddy district and they should oppose any move that affect the interests of the district.
Incidentally, TRS fared badly in the district in 2014 elections.
In a rare show of unity all parties decided to wage united fight against the government's move. Ram Mohan Reddy said KCR was thinking that he was chief minister to his home district Karimnagar alone. "It is unfortunate that the CM was trying to deprive Rangareddy district of Pranahita-Chevella water," he said. The meeting adopted a resolution demanding the government to desist from changing the design of Pranahita-Chevella project and urged to implement the project as per the design approved in 2005.
CPM leader Mallareddy said Adilabad and Rangareddy would be severely affected if the design of the project was changed.Former minister Prasad Kumar asked Mahender Reddy, district minister in KCR cabinet,that he should oppose the design-change or quit the cabinet.TDP leader Prakash Goud opined that the unilateral decision of the government should be opposed tooth and nail.
CPI leader Mallesh suggested that if government thinks there would be problem from Maharashtra, then chief minister should lead an all-party delegation to New Delhi to put pressure on Maharashtra through NDA. YSRC leader Shivkumar said his party was opposed to the splitting of Pranahita-Chevella in the various dams.
Sabita Indra Reddy said design change would not only harm Adilabad and Ranga Reddy, whole Telangana state would be affected negetively. She said KCR was vindictive against Ranga Reddy district for political reasons.