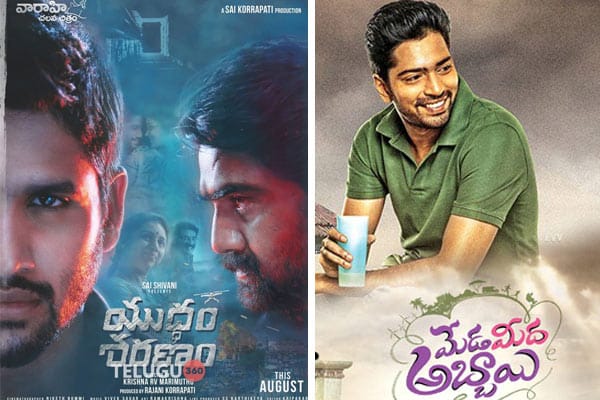 1. Yuddham Sharanam – The film has taken a below par opening with first day share being less than 2cr. Poor word of mouth has resulted nill improvement over the weekend and ended up with an estimated share of 3.45 Cr. This is one of the lowest 3 day share for the hero and less than many of his disasters.
2. Meda Meeda Abbayi – The opening was on the lines of Yudham Sharanam with day share less than 1Cr. But unlike that film this has maintained steady collections on Saturday and came on board on Sunday with a very good jump. Sunday Collections of the film are what they should have been on Friday to be called a good weekend thus it looks average now. This improvement gives a hope that it may sustain from today. Estimated weekend share for the film is 2.3 Cr.
HOLDOVERS :
1. Both Paisa Vasool & Arjun Reddy had similar collections over the weekend with a minimal difference. They have collected an estimated share of 75 lakhs and 70 lakhs in their 2nd and 3rd weekends respectively taking cumulative totals to 16.2 Cr & 15.6 Cr. Paisa Vasool is a DISASTER while Arjun Reddy is a BLOCKBUSTER.
2. Fidaa with a sensational run completed 50 days in major centres and continued to rake shares even it's 8th weekend which is phenomenal. It collected more than 36 cr share and the area wise closing will be updated in the website soon.