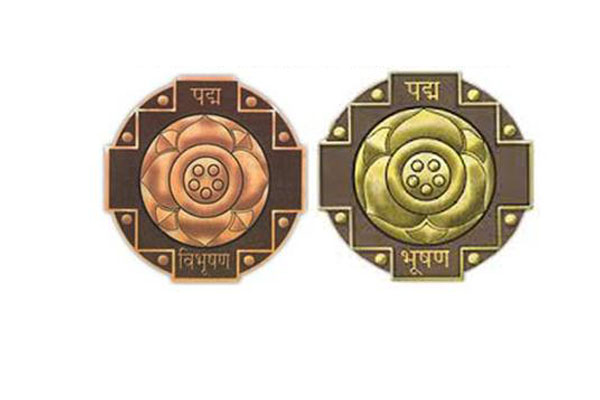 2017 Padma Awards
As many as seven noted personalities from a host of fields in Telangana are selected for Padma Shri, the fourth highest civilian award in India, which were announced on the occasion of Republic Day. Interestingly, almost all of them down-to-earth personalities, eminent in their own areas.
They are Chandrakant Pithawa (Science & Engineering), Tripuraneni Hanuman Chowdary (Civil Service), Dr. Prof. Aekka Yadagiri Rao (Art-Sculpture), Daripalli Ramaiah (Social Work), Chintakindi Mallesham (Weaving Machine innovation), Mohammed Abdul Waheed (Medicine) and Mohan Reddy Venkatrama Bodanapu (Trade & Industry).
Daripalli 'Vanajeevi' Ramaiah, hails from Reddypally village, Khammam district, has dedicated his life to increase the green cover and in the process has been credited with planting one crore trees. The fight of Ramaiah to plant trees was not alone, as his wife Janamma also made significant contribution to tree planting.
Yadagiri Rao, retired as Professor, Department of Sculptor, JNTU, is India's renowned sculptor, a skillful carver. He is one of the most prominent among the first generation artists of South India
Mallesham, hails from Sarajipet village of Nalgonda district, has invented the 'Lakshmi Asu machine' reducing the time taken to weave a sari from four hours to just 90 minutes, freeing up women for more remunerative work. The machine has impacted 60 per cent of the looms that were engaged in weaving at Pochampally.
Hanuman Chowdary, well known social activist and writer, was the founding Chairman and Managing Director of Videsh Sanchar Nigam Limited (VSNL), India's International Telecommunications Corporation. He founded Centre for Telecommunications Management and Studies (CTMS) in 1989, to wage the intellectual campaign for competition in Indian telecoms. He wrote the draft National Telecom Policy (NTP), as early as in 1989.
Dr. Mohammed Abdul Waheed, currently working as Director, Central Research Institute of Unani Medicine, Hyderabad, published many research papers on Unani medicine. Vitiligo being his topic of interest, enormous contribution is done in this area.
Mohan Reddy is a business executive and engineering manager, who is the founder and managing director of Cyient (formerly Infotech Enterprises). He is also credited with pioneering the computer-aided design/computer-aided manufacturing (CAD/CAM) culture in India, introducing computer systems for design and manufacturing applications as far back as 1982. Mohan is Vice Chairman, NASSCOM and Chairman, Board of Governors, IIT Hyderabad. Mohan also serves as a member of National Council of CII.