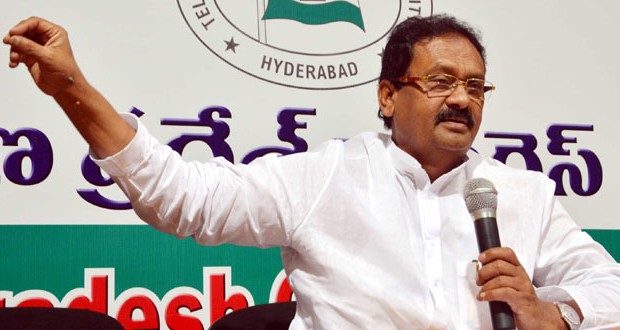 Leader of Opposition in Telangana Legislative Council Mohammed Ali Shabbir dared Chief Minister K Chandrashekar Rao if he was ready to take by-elections for Warangal Lok Sabha seat as a referendum and step down if TRS candidate P. Dayakar loses the election.
Shabbir Ali was reacting to the challenge made by Irrigation Minister T. Harish Rao wherein he asked whether TPCC President N. Uttam Kumar Reddy would quit from his post if Congress candidate Sarve Satyanarayana losses the election. Addressing a press conference at Warangal DCC office here, Shabbir Ali said Harish Rao was too small to challenge the TPCC chief. He said if KCR makes a similar challenge and agrees to accept Warangal by-polls as referendum, then the Congress party might consider making Uttam Kumar Reddy accept the challenge.
He said that Harish Rao has been targeting the Congress party out of frustration. "Harish apparently feels that he did not get due recognition in the party. Despite actively participating in Telangana movement, KCR is promoting his son K. Tarakarama Rao and projecting him as apparent political heir. This has turned Harish Rao crazy and he has been making wild statements against Congress. He is repeatedly asking whether Uttam Kumar would quit the post as if he himself was an aspirant for the same," he said.
Shabbir Ali listed out the failures of TRS Government during the last 530 days in power. He said KCR was simply not willing to answer basic questions being raised by the people. He said KCR has turned so arrogant that he is not giving respect even to the courts and constitution. He said now the High Court has sent a notice to Talasani Srinivas Yadav for being a minister in TRS cabinet despite continuing as TDP MLA.
He also announced that the Congress party would lodge a police complaint against Panchayat Raj Minister K. Tarakarama Rao for his remarks wherein he compared Sarve Satyanarayana to an old one-rupee currency note and tore it by calling it a "chellani rupayee" (fake/obsolete note). He said tearing off a currency note is an offence and KTR committed it in full public view. He pointed out that despite being the then Union Minister Sarve Satyanarayana spoke on Telangana issue in the Lok Sabha for a record 28 minutes. Shabbir Ali also stated that nearly 10 lakh poor Muslims benefitted from 4% Muslim reservation policy of previous Congress regime. He said that the TRS Government was not serious on giving 12% reservation for Muslims in jobs and education.
Later, accompanied with former Union Minister S. Jaipal Reddy, Shabbir Ali visited the family of Shruti, the girl who was killed in an alleged encounter with the police. He assured Shruti's mother that Congress party would fight against the State Government until it orders a CBI probe and takes action against the guilty policemen. He said Shruti's death was not an encounter, but a cold-blooded murder.