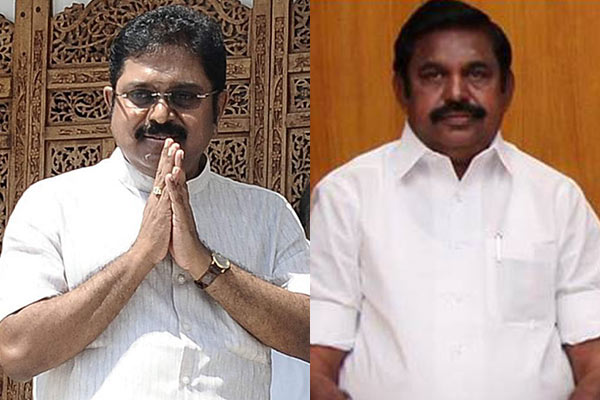 Madras High Court Thursday delivered a split verdict on the case against the disqualification of 18 AIADMK MLAs of Dinakaran faction. A two-judge bench heard the case and the judges were divided on the verdict. Now, the matter has to be heard by a third judge.
What is the case: The AIADMK won 135 seats out of 234 in 2017 elections and surpassed 117 magic number. After Jayalalitha's death 18 MLAs sailed with TTV Dinakaran bringing the number of AIADMK MLAs to 116. The Opposition has 98 seats, including 89 MLAs of DMK, eight of Congress and one of the IUML. There is one nominated MLA in the House. If Dinakaran and other 18 MLAs vote against Palaniswami government in no confidence motion, it will fall immediately. What speaker (belonging to AIADMK party) of TN did is – he disqualified those 18 members based on complaint of AIADMK on the grounds of "anti-party" activities. So, With 18 seats currently vacant, the House is down to 216 members making magic number required is 114 and AIADMK has 116 now.Dinakaran's group moved to court saying the disqualification of this 18 MLAs doesn't hold water.
What is the verdict: It was heard by two judge bench. One judge gave verdict in favor of Dinakaran group, saying disqualification is not valid and other in favor of Palaniswami saying disqualification is valid. So now it has to be heard by 3rd judge to give final verdict. The court has also ordered that no floor test or by-polls can be conducted till its final order.
Future Implications: If 3rd judge rules in favor of Dinakaran later, DMK+ allies+ Dinakaran group will get magic number to form the government. Or they can go for elections too. If 3rd judge rules in favor of AIADMK, elections will happen in 6 months and if Dinakaran group or DMK manage to win , which is likely, AIADMK days are numbered again. In both cases, AIADMK has tough time. Only case where it is comfortable is the case is prolonged without any verdict.
Dinakaran reaction to verdict: Reacting to the verdict, TTV Dinkaran says, "Only God knows how the same judge (CJ of Madras High court) delivers contradicting verdicts on two similar cases (18 MLAs disqualification in TN & 3 MLAs disqualification in Puducherry)."
People reaction: For people, it just seems like killing some more time without giving any final judgement. Palaniswami group must be happy for this additional time they got now. People do not understand, why it was not referred to three bench judge or 5 bench judge in the first place itself.
-ZURAN