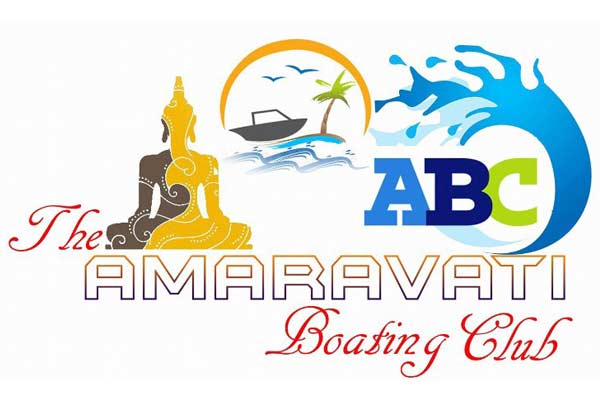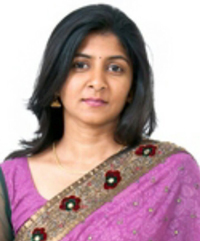 Ever felt like conquering the waves or had a yearning to surf the waves! Vijayawada based startup Amaravati Boating Club (ABC) is giving this enriching experience to its visitors. As the shells sank, dreams floated for the founders of ABC who chose to steer a boat. Telugu360 is in conversation with Pavithra Kakani – Managing Director of ABC who shares her experiences –
What does ABC have to offer to its customers?
Amaravati Boating Club caters to premium lovers of water sports and adventurous activities. We provide the best water riding experiences like Jet-skiing, Jet kayaking, Banana and Bouncy rides. We provide the best tourism experience at affordable prices with international standards which includes luxury pontoon and cruiser long boat, HDPE and turkey boats
How did you get the idea of setting up a boating club?
Before ABC happened, people or visitors of Vijayawada did not have a lot of activities for recreation. They would either go to mall, movie or restaurant. We visited Bhavani Island, after thorough research and planning for 6 months we came up with ABC. Nothing can stop a good idea and timing is everything.
It's been a month since your inception, how is the response from different age groups?
The response is remarkable. Our customer base is not just youngsters, we cater to the needs of all age groups. Recently a 75-year old woman took me by surprise when she took a bumper ride. Since we are affordable, people are liking us a lot. Also they need not travel distant places for adventure sports.
Any specific event or trip you want to tell us?
Sure! We conducted women's week from March 5th to 11th as part of International Women's Day. We invited pioneering women from different industries to experience ABC and later honored them for their accomplishments. This has been a huge success and it increased the entertainment quotient in and around Vijayawada.
You signed the MOU in January at the CII partnership summit. How did you materialize it so soon?
We are one of the first startups who materialized within 20days after the MOU exchange at the CII summit. This is not a one man army, but rather a team work. We had a robust plan and things fell in place without any glitch.
Can you share your experience in the ease of doing business with the Andhra Pradesh government?
The Chief Minister Chandrababu Naidu himself being the tourism minister indirectly helped us a lot. This startup is one of its kind. Advantage ABC is that a woman was leading it. I was able to get directions and permissions with no trouble. If we have accurate strategy in place, the government on its part to encourage women entrepreneurs is doing their job well.
What are the measures ABC is taking up to keeping the river Krishna clean?
We have taken up project "Clean Krishna" to ensure that none of our customers throw anything into the water. Also, in association with CII- Young India(Yi Amaravati) we wanted people to be part of cleaning the Krishna River. In our boat rides, we provide fishing net and ask the visitors to collect the plastic and other scrap they find. We give them goodies for doing the activity and dispose the collected waste appropriately. People are loving this initiative and are very interested in it.
Amaravati has hosted big events in the past two months. Do you have any tie-ups for such events?
We have ferried women representatives at the Women's parliament and also the Face Yoga, we are just a month old, but in long term we would want to pursue such tie-ups. As of now suggestions do pour in from the personalities who visit us.
Are you working along with AP tourism? Tell us more about your competitors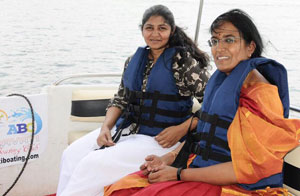 We do have competitors but we are very unique in our space. The activities and the things we use are of very high standards compared to others. We wouldn't see AP tourism as a competition but would rather prefer to work along with them. In fact the commissioner encouraged us and gave us an idea of Kalamkari theme.
Where do you see ABC in next two to five years?
We currently have 9 boats and want to expand our fleet. We want to progress in this area and in a year or so we want to start our ventures in different regions. We also want to make the experience seamless so we are working on the technology piece of it. We envision that ABC shall be catering to premium tourists both from across India as well as foreigners . We want to let tourists experience the legend of Amaravati and get immersed in the ethos of the river Krishna and goddess Durga along with the majestic Prakasam Barrage, the local fisherman community , wildlife ecosystem and the scenic beauty of the islands.
What does Amaravati require to become startup capital?
It needs to more investors and incentives. The government on its part has to improvise the startup policy. People should adapt the culture of startups. Colleges especially should create awareness about startups as it is an opportunity to not only get a job but to employ others.
How was your transition from Software engineer to an entrepreneur?
It is two different worlds. In IT we are surrounded by graduates who are to the point. But when it comes to ABC, I need to interact with different kinds of people with different mindsets. Moreover after you develop something in IT, you don't really face the customer every day. Here we have a new customer each day and our service has to be the best. The recall value of the customers is very crucial in this industry because marketing happens mostly by word of mouth.
What is your message for women entrepreneurs?
There can be no other time perfect than now for women to realize their dreams. Be bold and never underestimate yourself. Everyone out-there wants to help you and not scare you. The government is giving lot of subsidies and grants, loans for MSME. Similarly, organisations like CII also provide good networking opportunities and learning opportunities for women entrepreneurs.
Watersports is not as difficult as it seems, just dive into it and start riding your boat.
Telugu360 is always open for the best and bright journalists. If you are interested in full-time or freelance, email us at
[email protected]