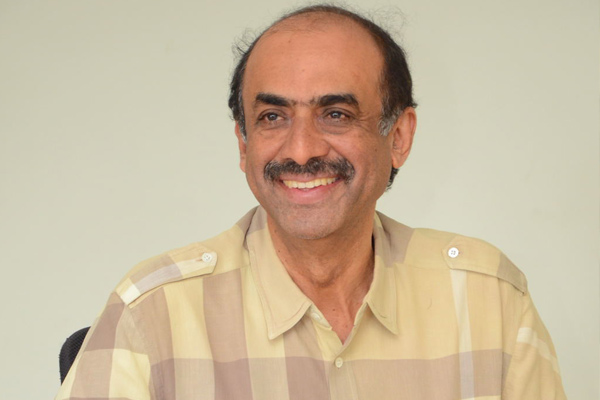 Nagaraj Goud
Leading producer Suresh Babu's tryst with small cinema is not just ending with June 29 dated 'Ee Nagaraniki Emaindi' if his next line-up of films—with Ravikanth Perepu, 'Dorasani' (with debutant Mahendra) and 'C/O Kancharapalem'—are any pointers. Is this the road ahead for him? No, not really. He'd be doing tent-pole cinema too, as his immediate next would be headlined by his superstar brother Venkatesh and nephew Naga Chaitanya. It is tentatively titled as 'Venky Mama' and he'd be producing it along with People Media Factory. "With the aim of bringing new talent and new effective processes, I'd be associated with a lot of small cinema moving forward, albeit a different one at it," he states as we sit down with him for a chat at Ramanaidu Studios, Hyderabad.
Process is the new mantra that he wants to chant as he believes that the industry is below par when it comes to quality. "Whether we are doing the biggest or the smallest of cinema, we've become a quantity industry not a quality industry. The habit of not following due processes for the betterment of any product exists in all fields, which is why we are not as great a nation as we could be. At least as far as industry goes, I want to raise the quality bar," he lets his intentions clear, adding that some time back he met a foreigner who told him that Indian films are not accepted internationally because of poor images and sound. "He told me, 'Your cameras and sound equipment are same to that of the world, but then you lack discipline'. Those words stayed with me."
The Tollywood heavy hitter continues, saying that some IT organizations, Pharma companies and ISRO have followed processes and achieved world-class results. It's time we emulate them, he feels. "It should be a conscious effort from the industry's end that we improve our quality. With 'Emaindi Ee Nagaraniki', it was not the content that surprised me but the resultant 'quality' product that Tharun Bhascker and his young team made, in the amount that I gave them. They shot in sync sound; they did the script in advance and like-wise many other things. Yes, there were areas where they could've improved a bit but then I never got the people who knew the process to this degree till now."
He admits it's going to be a challenging couple of years ahead for Suresh Productions. " I've told the teams of my upcoming production ventures, 'let us follow a process'. Earlier, we followed experienced processes but they were not documented. We have to document them and come up with a handbook for Indian filmmakers and make it mandatory for production staff. There's a production handbook for American cinema where they list out the all the guidelines that a production staff should follow. US works that way, whereas we follow processes at absolutely necessary places and at other places, we just don't because we know our work gets done at the end of the day. We are coming with a film mentorship program at Ramanaidu Film School, so that the students will follow a set process from the initial stages of script development to the end of post-production," he explains.
Suresh fondly remembers that the first man who emphasized about quality to him was the celebrated tunesmith AR Rahman who worked on the music of his 1994 cop-drama 'Super Police'. "He kept on harping that we should excel at sound, while I conveniently ignored him. Look where he ended up," he smiles.
He foresees that most Telugu filmmakers will be using sync sound technology henceforth. "Mumbai has started the use of sync sound. Aamir Khan shoots all of his films on sync because he realized its value. When did sync sound go off? When cameras and lights became loud and as we started shooting outdoors, right? Most English films are shot on sync sound. In fact, for four-wheeler explosion scenes too, 70 -75 per cent directors use sync. When I went to the sets of 'Ee Nagariniki Emaindi', I was taken aback at the discipline that was being maintained on sets. There was no murmuring and everyone was focused on the job at hand. Which is why I felt the performances turned out to be so strong. Sync sound usage will only increase in the coming days. If there are noisy surroundings, we will get better mics," he signs off.