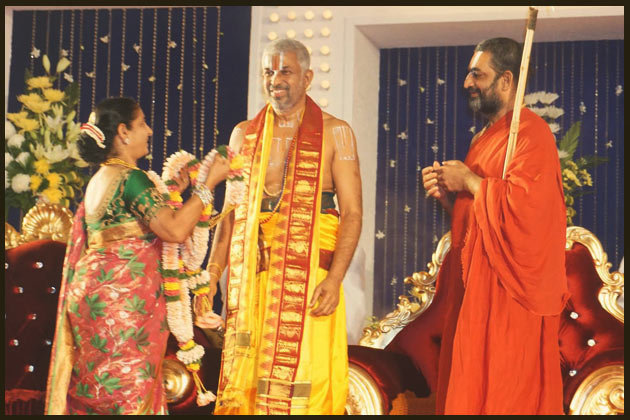 Myhome Rameswar Rao , TV5 , NTV , Myhome Rameswara Rao buys NTV TV5 stake
Rameswar Rao, a trusted lieutenant of KCR has acquired stake in two Telugu news channels
By accepting investments from  CM's inner circle corporate , will TV5 and NTV be able to question ruling governments and represent people of Telugu States ?
Mr. Rao is also known to be a front end for a famous Swami.
My Home Rameswar Rao, a homeopathy doctor-turned-real estate biggie, needs no introduction. One of the few home-bred industrialists of Telangana, Dr. Jupally is known to be one of the trusted lieutenants of CM K. Chandra Sekhar Rao. Mr. Rao, who has interests in cement production, power plants along with real estate, has made his intentions clear that he is looking to expanding his business empire by adding some media properties.
As per reliable sources, Mr. Rameswar Rao has acquired a 11% stake in vernacular news channel NTV, owned by Narendranath Chowdary, for 30 crores. Taking his media investments further, Mr. Rao has also invested 7 Crore in TV5, another vernacular news channel. It is worth noting that, Mr. Rao tried in vain to acquire a controlling stake in media major TV9, spear headed by Ravi Prakash. As he couldn't close the deal with TV9, Mr. Rao invested in channels, which are rated No. 2 and 3 in Telugu news channels.
"It is clear that Mr.Rameswar Rao wants to control the media narrative. This is similar to what Ambani has done at the national level by acquiring Network 18 group and ETV" says a senior editor of a Telugu news paper. These news channels have a fiduciary duty to question the TRS government when need be. By accepting investments from a right hand man of KCR, can these News channels maintain their independence?
An obvious question is why Mr. Rao very keen to invest in media? For one, Mr. Rameswar Rao is acquiring stake in News media to control the media narrative on behalf of his friend, KCR. Secondly, sources say Mr. Rao is the front face for most of the investment interests of a popular Swami's trust. It would be a big help for the  Swami and Mr. Rao to influence the media narrative when need arises for these investments. . Besides the point: Mr. Rao is going to make a killing through his Maha cements, due to its proximity to Polavaram project.
Incidentally, one of the channels Mr.Rao acquired a stake in, screens programs about Charlatan Swami in prime time at 8:30 AM. Instead of enlightening people, these news channels spread superstitions through their paid advertisements. Also, this news channel aggressively promotes 'NuZen' Hair Oil products claim that hair will regrown naturally. Really ?
"Once upon a time media took it's role to question people in power very seriously. Media was the adversary. It would take on those in positions of power, whether in government or the corporate sector. Time alone will tell how that adversarial role will exist under these sort of corporate deals." said a senior media executive about corporate investors in media.
Will TV5 and NTV maintain their editorial independence and serve their fiduciary duty to further the cause of Telugu people? Only time can answer.