Andhra Pradesh PCC president  N Raghuvira Reddy and  many other senior leaders have been arrested at Secunderabad railway station today when they were requesting the Bihar passenger travelling home to vote against BJP led NDA in ongoing Bihar elections.
Raghuvira arrived in the railway station along with senior leaders to meet Bihar passengers on platform number 1. APCC took up  the "Defeat BJP in Bihar" program as a protest against Prime Minister Modi's  what it called indifference towards  fulfilling the assurances made to Andhra Pradesh by the union government  at the time of  passage of Andhra Pradesh Reorganization Act. 2014. The demands of PCC include special category status to Andhra Pradesh, special package to seven backward districts in Rayalaseema and North-coastal Andhra etc. The PCC team met many passengers in Secunderabad-Patna train and asked them not to trust Modi and his assurances. They said even the so-called Rs.2.25 crore Bihar-package was also a fraud and it was announced only to appease the Bihari People with an eye on elections.  They reminded the Bihari people in the train how Modi  assured special category status to Andhra Pradesh during 2014 elections and backed out after winning the elections.
PCC general secretaries Janga Gowtham,  T J Sudhakar Babu, official spokespersons Ganga Bhavani, Dr N Tulasi Reddy, SC cell chairman Korivi Vinay Kumar, Minarty cell chairman Ali Khan, Ranga Redd DCC president K Mallesh  participated in the program . They distributed the pamphlets calling for defeat of Modi's leadership in Bihar. They also fastened the banners to the banners to railway compartments.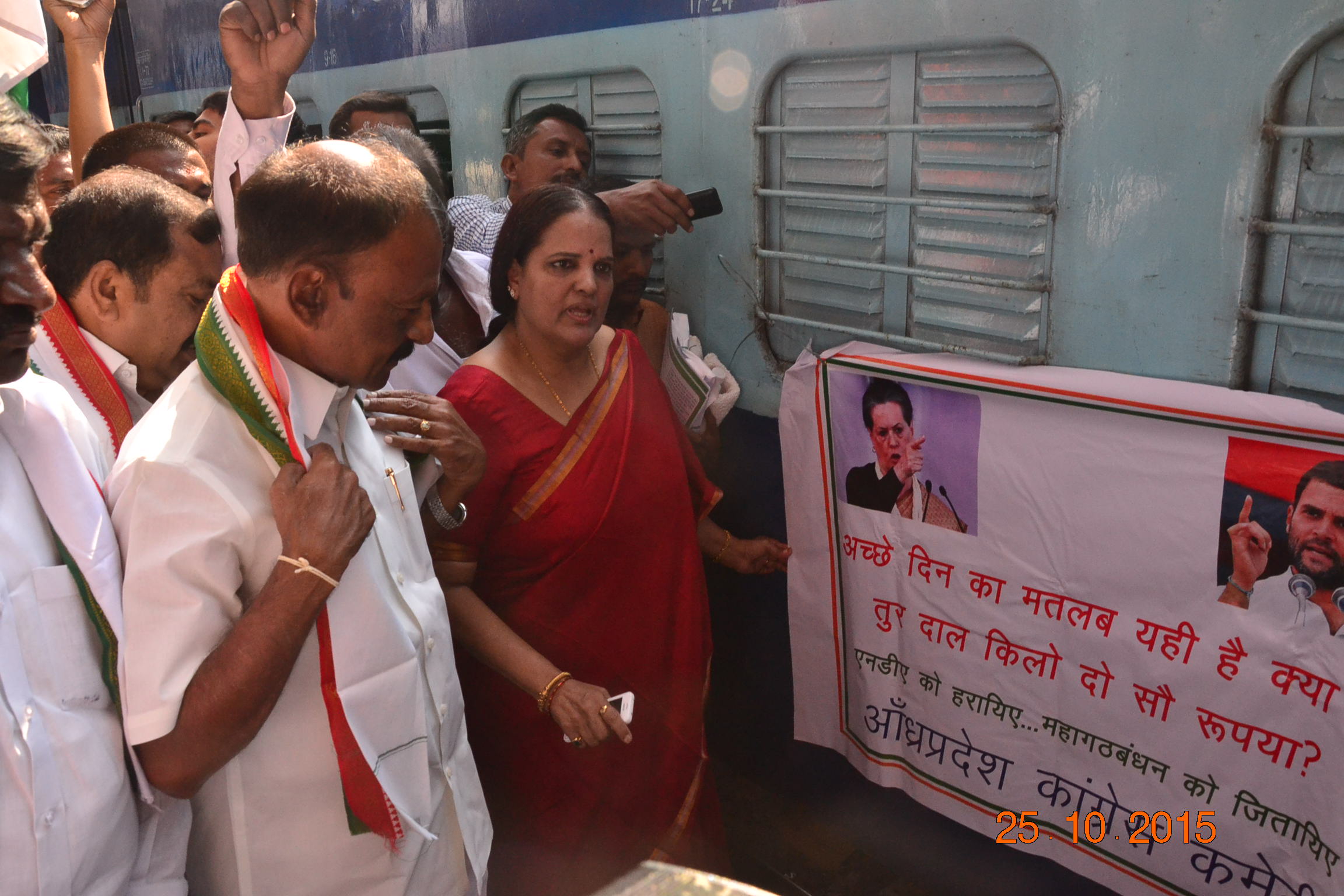 He explained that Modi's Bihar package of Rs 1.65 lakh crores was  nothing but re-packing of all the Central funds due to the state from the Centre. "When we were cheated on promises made right on the floor of Parliament, it is certain that you will also be cheated as Modi has the habit of announcing packages  when elections are approaching. He won in AP and cheated us. If he wins in Bihar, he will surely cheat you", Raghuveera Reddy explained the people of Bihar in train.
While they were campaigning the station, Police arrested them stating the campaign was not allowed in Railway station. Later, Raghuvira team was released on bail. Talking to media after his release, the PCC president said he was going to Bihar along with  senior leaders C Ramachandraiah, J D Seelam, KVP Ramachandra Rao and Pallam Raju to Bihar to participate in the campaign .  He said the AP Congress team would tell the Bihar people who the Andhras were cheated by Prime Minister Modi and caution them not to be fooled by the  packages and other tricks being played by  BJP and Prime Minister Modi.