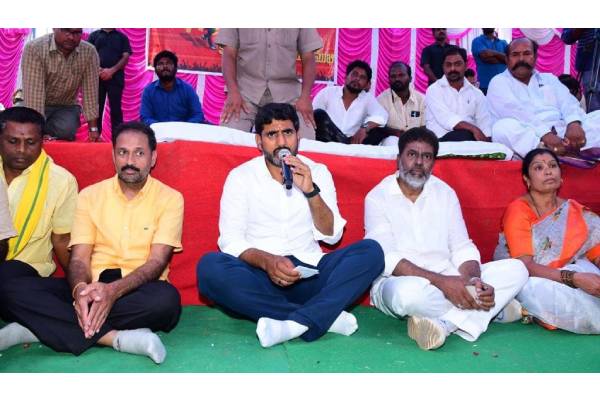 Taking revenge on the Opposition parties is not on the agenda of the TDP and the party will only teach lessons to the rivals by implementing various welfare programmes thus winning the confidence of the people, party general secretary Nara Lokesh made it clear on Saturday.
Lokesh had a face-to-face programme with representatives of the Scheduled Tribes (STs) at Kokkanti Cross in Kadiri Assembly segment during his ingoing pada yatra, Yuva Galam. Responding to a series of problems narrated by these ST representatives, Lokesh said that immediately after forming the government the TDP will declare a war against unemployment to provide jobs to the youth and win the trust of the youth.
"This is going to be a return gift to the Chief Minister, Mr Jagan Mohan Reddy, who cheated the jobless youth," Lokesh commented.
Observing that the TDP, while in power, recognised thandas and gudems with 500 and more population as panchayats, the TDP general secretary said that the Integrated Tribal Development Agency (ITDA) too was set up during the TDP regime only keeping in view the progress of Girijans. Safe drinking water too was supplied to thandas through gravity by the TDP government and free power supply facility was provided by the TDP regime, he stated.
Facilities like subsidy loans and financial assistance for further studies abroad for STs were also implemented when Chandrababu Naidu was the chief minister, while Rs 50,000 each was extended as assistance under Pelli Kanuka for Girijan women, Lokesh stated. It is the TDP that extended all kinds of assistance to the tribals both politically and financially, Lokesh told the ST representatives.
Earlier, the ST representatives told Mr Lokesh that there are no basic facilities in the thandas now and the roads are completely damaged. The State Government is least bothered to reconstruct the roads which is causing untold hardship to them, they informed Lokesh. Mobile network is not available at almost all the thandas, they said and stated that the ST backlog posts are not being filled.