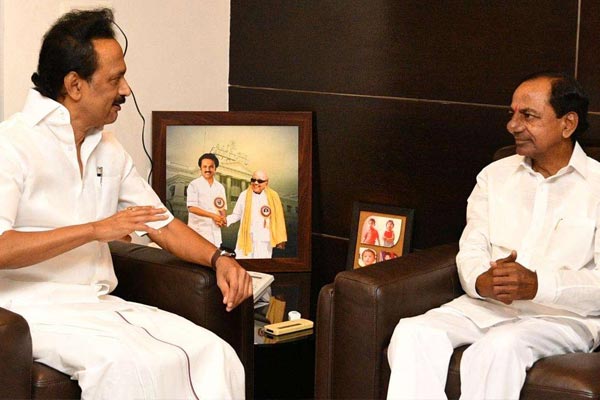 It is known news that KCR's meeting with Stalin did not go on expected lines. KCR's plan of pulling DMK out of UPA to support the federal front with only regional parties did not work out as Stalin asked KCR to support UPA instead. After this meeting, Tamil started focusing and analyzing KCR's federal front.
KCR has been mulling the idea of federal front for almost one year now. He has been talking about the possibility of forming the central government without Congress and BJP. However, many political parties, especially in Telugu states are calling KCR an agent of Modi and predicting that KCR will support Modi after elections. Some leaders in Telugu states called Federal front as Modi's Plan-B almost one year back.
Click here:
https://www.telugu360.com/te/kcr-meeting-leaders-for-federal-front/
Now Tamil media and politicians debating in Tamil channels are pointing exactly the same thing and saying KCR's front is Modi's plan-B. They are even questioning why KCR is meeting only UPA allies and not opening any debate with Shiv sena or Akalidal or Nitish Kumar who are supporting NDA. They are questioning the genuineness of KCR's federal front and quoting, "If KCR is really serious about the federal front with regional parties, he should discuss with parties supporting NDA as well".
Results will be out in less than 10 days and political climate is warming up again across the country.