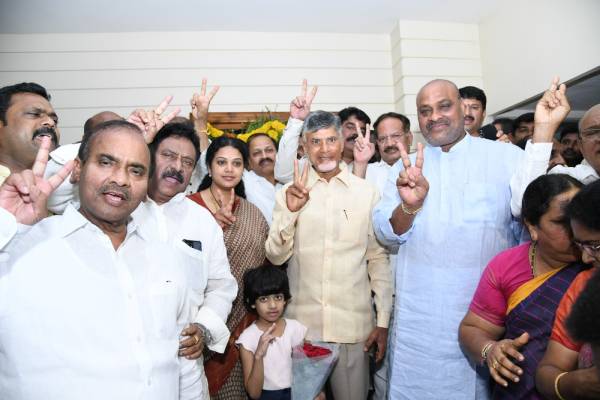 The TDP on Thursday celebrated the party's victory in the MLC elections from the Assembly. The party leaders congratulated Panchumarthi Anuradha on her election to the Upper House in the state.
Anuradha had won with 23 first preference votes, while the other six YSR Congress MLCs had won with 22 first preference votes. The seventh candidate of the YSR Congress Kola Guruvulu lost the election.
TDP chief N Chandrababu Naidu congratulated Anuradha and the party MLAs for the party's victory in the electoral battle. He said that good days have started for the party and the journey would end with the party forming the government after the 2024 general election.
He made an appeal to the rank and file of the party to work with the same spirit and ensure that Jagan Mohan Reddy government is thrown out of the state. He wanted the party leaders to keep their differences aside and work together to bring the party back to power in the next election.
Party general secretary Nara Lokesh took to his twitter handle to hail the party's victory. "We were heckled for winning 23 seats. But on the same 23rd day, we won with 23 votes," Lokesh tweeted.
Senior leader Gorantla Butchaiah Chowdary said that the victory of the TDP would restrict the YSR Congress to the single digit in the coming elections. He said that people across the state were turning against the YSR Congress and it was clearly seen in the recent graduate MLC elections.
The elections have brought new enthusiasm among the party cadre, asserted party senior leader and former MP, Kambhampati Rammohan Rao. He thanked every MLA for ensuring the party's victory in the MLC election from the Assembly.
Former minister and party MLA Ganta Srinivasa Rao termed the TDP's victory as the return gift for Jagan Mohan Reddy. "We will keep giving him this sort of return gifts one after the other from now," the former minister asserted.