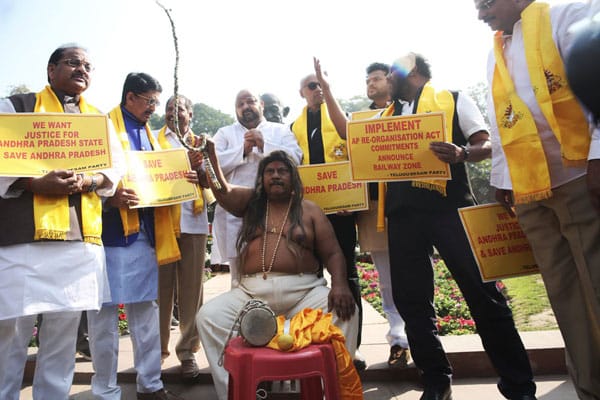 The Telugu Desam Party (TDP), a NDA constituent, on Friday pledged to escalate its protests if the Modi government failed to give the promised financial assistance for the bifurcated Andhra Pradesh, party leader Jayadev Galla said.
"We will keep escalating the protests till we get what is rightfully ours. We are demanding what rightfully belongs to the people of Andhra Pradesh. The people of Andhra Pradesh are unhappy," Galla told IANS.
He refused to elaborate.
The MP was participating in a debate on the budget in the Lok Sabha, stating that allies like the TDP were feeling "humiliated".
He wondered if the BJP was thinking of breaking up the alliance with the TDP and join hands with the YSR Congress in Andhra Pradesh.
Galla skirted a question about the future of the TDP-BJP alliance but said the government was not keeping its promises like granting special category status to the state, setting up a new railway zone and funding construction of the new capital of Amravati.
The TDP protested in both Houses of Parliament throughout the budget session.
On Friday, party MP A.N. Sivaprasad came dressed like a 'tantrik', armed with a wooden pellet rattle, and performed a puja in the Parliament complex.
Sivaprasad has been playing a rattle during the protests in the Lower House as well. On Thursday, he was reprimanded by Speaker Sumitra Mahajan when he picked up some books from the table of the Lok Sabha's Secretary General.
Telangana was carved out of Andhra Pradesh in June 2014 and Andhra Pradesh was promised compensation, as revenue generating areas, including capital Hyderabad, had gone to the new state.