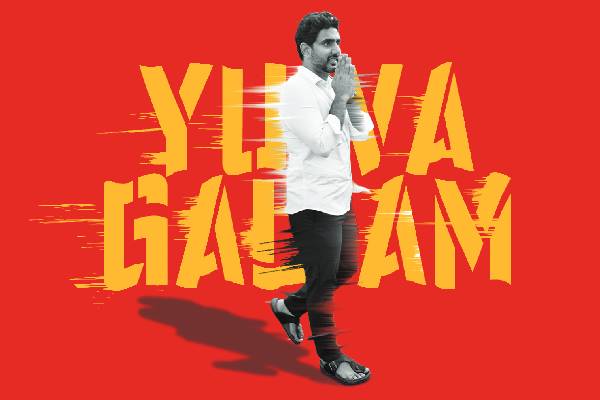 The main opposition Telugu Desam Party (TDP) has sought police permission for the padyatra of party president Chandrababu Naidu's son Nara Lokesh.
TDP leader Varla Ramaiah has written a letter to the Director General of Police, seeking permission for party general secretary Nara Lokesh's padyatra scheduled to start on January 27.
Requesting the police chief to accord permission and provide adequate security, he assured the DGP that they will not cause any hindrance to the free flow of traffic and maintenance of law and order.
Varla Ramaiah, who is also general secretary of the party, stated that Lokesh faces threat to his life from extremists, factionists and political rivals.
"We also request you to provide necessary security arrangements throughout the padayatra and at the night halt venues in order to avoid any untoward incident. Further, it is requested to give appropriate directions to all the police stations across the State to provide adequate security to the padayatra," he wrote.
Lokesh has announced that he will undertake a 4,000 km padyatra from Kuppam to Ichchapuram in 400 days.
Titled 'Yuva Galam', Lokesh's padyatra will be an innovative platform for youth. The TDP said that it would be a campaign to mobilise the youth to participate in the agenda-setting process, as well as to raise their voices to express their opinions and demand change.
However, doubts remain on whether the police would give permission for the padyatra as the state government last week issued an order prohibiting meetings on roads. The order was issued in the wake of December 28 stampede during a road show of Chandrababu Naidu at Kandukur that claimed eight lives.
The opposition parties have slammed the YSR Congress Party (YSRCP) government for the move calling it an attempt to muzzle the voice of opposition.
Following the Government Order, the TDP chief was stopped from conducting road shows and addressing public meetings during his visit to Kuppam, his Assembly constituency in Chittoor district.
Actor and Jana Sena Party (JSP) leader Pawan Kalyan on Sunday met Chandrababu Naidu to express solidarity with him. The two leaders announced that they along with other opposition parties will launch a joint movement against the Government Order. They said their movement would continue till the government takes back the "black order".