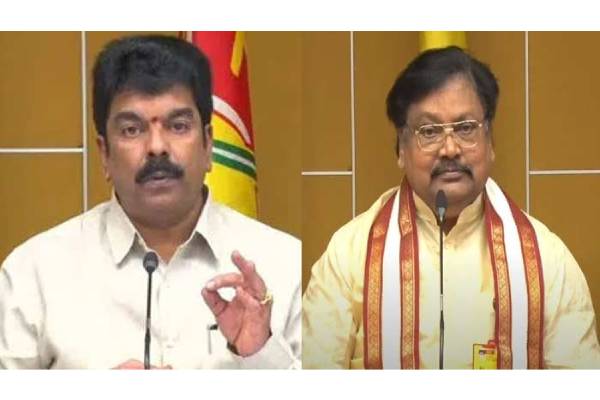 Chief Minister, Jagan Mohan Reddy, is a master in manipulating the systems and the relief to both Jagan and YSRCP MP, Avinash Reddy, is only temporary, felt TDP politburo members, Bonda Umamaheswara Rao and Varla Ramaiah, on Wednesday.
Talking to media persons the TDP politburo members felt that the common man is now expressing the doubt whether the CBI's assiduous task all through has gone waste before the influence and power of Jagan.
No doubt, the repeated visits of Jagan to New Delhi have turned out to be successful and the TDP really appreciates the Chief Minister, Bonda said.
Observing that it is nothing new for the YSRCP to manage the systems, Bonda Uma recalled as to what was the ultimate result in the case of Gali Janardhan Reddy and what happened to the then judge of the CBI special court, Pattabhirama Rao.
Advisor to the government,Sajjala Ramakrishna Reddy, who certified Avinash Reddy as innocent, should ask the grandsons of Vivekananda Reddy, as to who killed their grandfather. Only then the facts will be revealed, Bonda Uma felt.
Stating that the murder case of Vivekananda Reddy has created sensation across the country, Bonda Uma said that the whole country believed that the culprits will be brought to book.
The CBI gathered the evidence that all the accused were sitting at the residence of Avinash on March 14, 2019 evening and how the sickle was brought from Kadiri, he said, adding that the CBI even gathered complete information on the phone call list of Avinash.
"The CBI has gathered all the evidence and we are sure that the culprits can not escape. No doubt Jagan is a master in managing the systems. Soon after the judgment was pronounced by the Telangana High Court, the media conference addressed by Sajjala and the Praja Darbar held by Avinash are evident of this.
After studying the bail appeal of Avinash, the common opinion is that the Section 302 Indian Penal Code (IPC) be reviewed," Bonda Uma remarked.
Varla Ramaiah said that though Jagan has failed miserably as the Chief Minister but he is successful in saving Avinash. Just because he got bail in the murder case, it does not mean that he is innocent, Ramaiah stated.
The TDP politburo member is of the opinion that the Section 302 IPC should be reviewed and made as a bailable Section by simply serving notices under 41A.
Ramaiah demanded the CBI Director to review the investigation conducted in this case from the beginning and said that the agency lost its credibility. The TDP politburo member also appealed to the Supreme Court to review the judgment in this case.