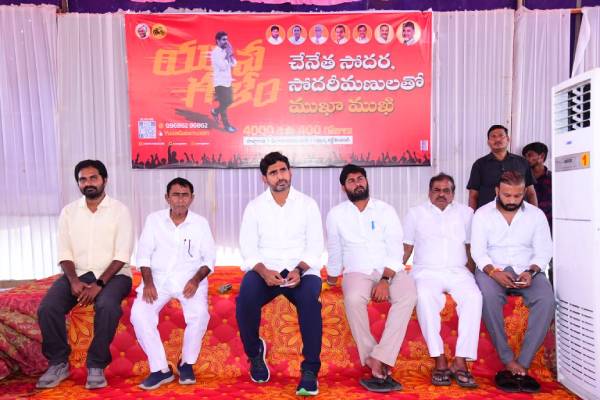 Chief Minister, Jagan Mohan Reddy, who has thrown out his own mother and sister did injustice to his motherland, Kadapa district too, observed Lokesh, TDP general secretary, on Wednesday.
Lokesh, who had a close interaction with handloom workers at the Devagudi campsite of Jammalamadugu Assembly segment during his Yuva Galam pada yatra, said that almost all sections of people are victims of various kinds of harassment during Jagan's rule and the handloom workers are no exception. The Chief Minister is not finding time even to conduct a review meeting on the problems being faced by the handloom workers, Lokesh said and announced that he is adopting the whole handloom sector in the State.
Stating that the existing five per cent GST on the sector too will be lifted by the coming TDP government, Lokesh also promised to allot TIDCO houses to them and build common working sheds. "I am assuring you that the Chandranna Bheema scheme will be reintroduced once the TDP is back in power and we will certainly come to the rescue of all those who are dependent on the handloom sector, including farmers, master-weavers and other workers," the TDP general secretary added.
Pointing out that the TDP had earlier extended various kinds of benefits to the handloom workers like loan waiver to the tune of Rs 110 cr, Lokesh said that now even the Apco is virtually not in existence now. Immediately after the TDP forms the next government clusters will be set up for the workers and training centers too will be established, he added.
Later, the Salivendula villagers expressed their displeasure over the existing Government as not even basic amenities like roads, drainage and toilets were provided for them. "Jagan completely diverted the Rs 8660 cr funds meant for village development thus totally neglecting the rural areas and the situation has come to such a pass that the villages do not have funds even to buy bleaching powder," Lokesh remarked responding to the villagers' complaint. "I am promising you that once the TDP is into power again the villages will be given top priority," he added.
Lokesh's pada yatra entered the Proddatur Assembly segment from Jammalamadugu. He is received by TDP local incharge, Praveen Reddy, former MLAs, Veerasiva Reddy and Varadarajulu Reddy and senior TDP leader, CM Suresh Naidu besides others.