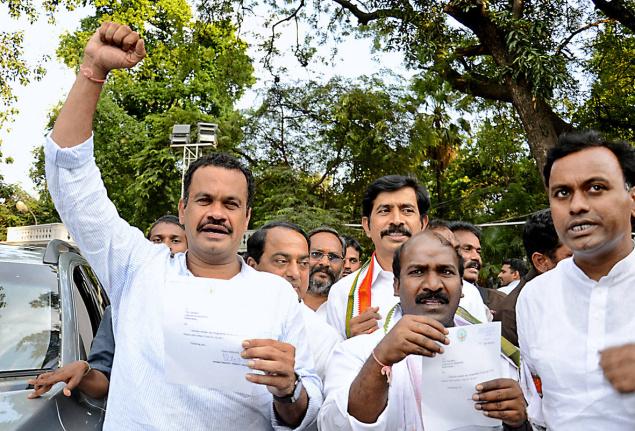 Telangana Congress leaders seems to be clueless towards the defiant attitude towards party leadership being exhibited by resourceful Komatireddy brothers' in Nalgonda district. Though several party senior leaders are accusing him of violating party discipline and doing immense damage to party's interest, no one able to find a solution on how to check them.
Earlier they had openly resorted to tirade against Telangana Pradesh Congress Committee (TPCC) President N Uttam Kumar Reddy, alleging him a `waste' leader. Very recently they took serious exception to his survey indicating Congress forming government in the state, if elections are held today, labelling it as `fake'. Party senior leaders like Dr Mallu Ravi branded him as `a TRS agent'.
Nalgonda MLA and former minister Komatireddy Venkata Reddy was unhappy with the prediction of the survey that the party would not win the Nakrekal assembly seat from Nalgonda district, as the constituency of his close aide and former MLA Chirumarthi Lingaiah.
In this regard, Venkata Reddy lamented that the Congress needs now is intense agitations against the TRS government, but not surveys to gauge its electoral prospects. Challenging Uttam Kumar Reddy's survey, he asserted that if elections are held now, Nakrekal will be the first seat the party will win hands down.
Last Sunday, when state AICC general secretary and in charge of Telanagna affairs Digvijaya Singh was here, he tried to pacify Komatireddy brothers, suggesting them not to go public on internal party issues, should confine to party forums. Everyone in the party taken some relief.
However, after two days of Digvijay Singh's visit, MLC Komatireddy Rajagopal Reddy again disputing with Uttam Kumar Reddy's survey declared that Leader of Opposition K Jana Reddy will be Congress Chief Minister after 2019 polls. He also accused that Chief Minister K Chandrasekhar Rao is performing yagas only to prevent him from becoming TPCC President.
Expecting one among them would become TPCC Chief soon, he said they would bring Congress into power. Venkata Reddy declares that "If I starts padayatra in the state, KCR government will collapse". Both brothers seems to be non-bothering about other leaders, but having their own `agenda'.
Telugu360 is always open for the best and bright journalists. If you are interested in full-time or freelance, email us at
Krishna@telugu360.com