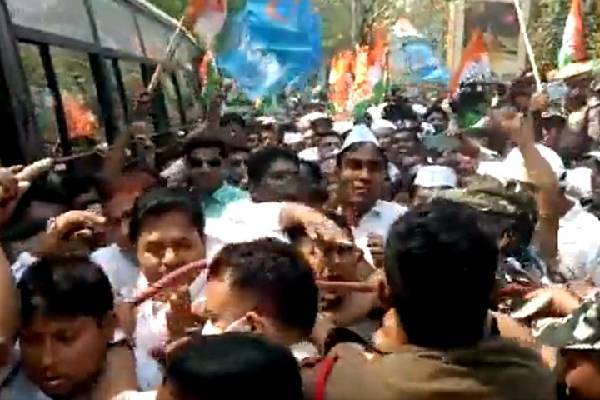 Congress leaders and scores of workers in Hyderabad were detained on Wednesday when they tried to march towards Raj Bhavan to "expose" the relationship between Adani group and the Bharatiya Janata Party (BJP).
Tension prevailed at busy Khairatabad crossroads as police stopped the Congress rally which started from Telangana Pradesh Congress Committee (TPCC) office at Gandhi Bhavan and was heading towards Raj Bhavan, the official residence of the governor.
Police had erected barricades to stop the protesters. There were heated arguments between police officers and Congress leaders who raised an objection to the police action. As the protesters tried to push through the barricades, the police used force to stop them and detained them.
Those detained included Congress Legislature Party (CLP) leader Mallu Bhatti Vikramarka, senior leader Mallu Ravi, TPCC working president Anjan Kumar Yadav, leaders of women, youth and student wings of the party.
The Congress had called for chalo Raj Bhavan to "expose" the relationship between Prime Minister Narendra Modi and industrialist Gautam Adani.
The protesters carrying party flags and placards reading 'save LIC' were raising slogans against the "anti-people" policies of the BJP-led government at the Centre.
Addressing the protesters at Khairatabad crossroads, Vikramarka alleged that the "Prime Minister was trying to shield Adani, who is involved in scams of billions of rupees".
"The BJP would continue to destroy Constitutional institutions, public sector companies and the lives of people untill it is voted out of power," he said.
By rejecting the opposition's demand for setting up a Joint Parliamentary Committee (JPC) to probe "Adani scam", the Prime Minister was trying to "protect" Adani, the Congress leader alleged.
"He (Modi) is trying to protect those who are looting the country's wealth while we are striving to protect the public assets," he said.