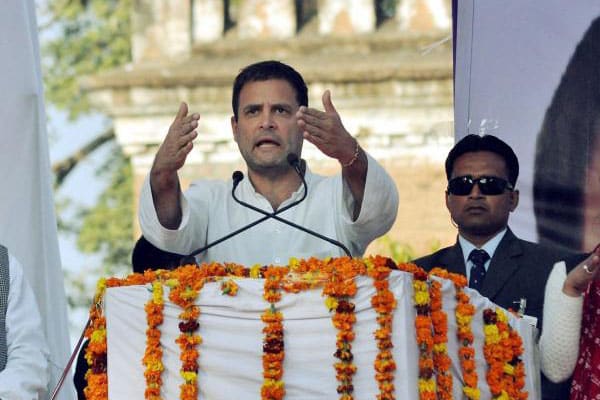 Congress vice-president Rahul Gandhi addressing a public meeting organised by the Telangana Pradesh Congress Committee at Sangareddy, said that Chief Minister K Chandrashekar Rao is behaving as if the state's water and land belongs to him. He said that KCR's house worth 350crore rupees was built using the money of students and people. He said Telangana was not formed to attract MLA's from other parties into TRS. Rahul asked "Did four crore people struggle to work for one family. Did the students and farmers fight for the family?"
The Member of Parliament of Amethi deplored that Narendra Modi in Delhi and KCR in Telangana amended the land acquisition bill brought by the UPA government. He said that when congress comes to power in Telangana, his party will promote Made in Telangana and phones manufactured in the state will have made in Telangana imprinted on it. He said that the country is facing severe unemployment problem now which is highest in past seven decades. He critiqued the PM and CM for failing to create the said employment for 2 crores people and job for every household as per their respective promises. The Congress leader said that youngsters are leaving villages in search of jobs. He said that KCR is working for the sake of contractors and land mafia.
Rahul said in the CM's own constituency 100 farmers committed suicide. He held that the state was not formed to become a farmers' graveyard. The congress vice president said that rupees 70,000 crore was disbursed as part of loan waiver scheme during the Congress regime in a single phase. He critiqued the loan-waiver scheme of TRS and questioned, "why are the patta books and women's jewellery still in the banks if loan waiver is done? What kind of loan waiver is this if banks are not giving new loans to farmers?" He said that the state's dreams cannot be realised in three years but grilled if the state is going in the right path to realise the dreams? Rahul questioned the gathering if the future of the state should rest in the hands of four people.
Responding to the allegations, Telangana Minister Municipal Administration and Urban Development K T Rama Rao tweeted "Some so called 'national leaders' of 'national' parties who can't even win an election in their own backyard, make tall claims elsewhere". He said that Congress leadership talking of 'family rule' is joke of the millennium. Later terming congress as Scamgress, the Minister of Information Technology said that congress leaders talking about corruption is even bigger joke. He criticised that the scripted speeches lack facts and clarified that there are already 5 mobile companies manufacturing from Telangana. KTR said that while congress gave 70000 crore rupees for entire country, the TRS government waived of rupees 17,000 crores of farm loans in just one state.