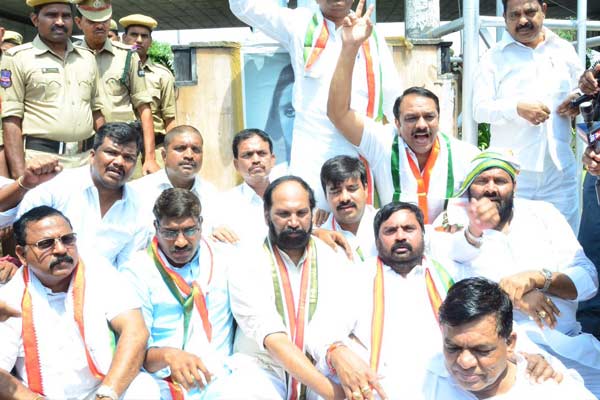 All opposition parties in Telangana on Friday came together for another round of protest over the shifting of 'Dharna Chowk', a popular venue for staging protests in Hyderabad.
Leaders of all opposition parties and mass organisations participated in a silent protest at Telangana Martyrs' Memorial at Gun Park, organised by Telangana Joint Action Committee (TJAC).
TJAC chairman Kodandaram, a bitter critic of Chief Minister K. Chandrasekhar Rao, led the protest and warned the Telangana Rashtra Samithi (TRS) government that if it failed to withdraw the move, a march to 'Dharna Chowk' will be organised on May 15.
Kodandaram, who had played a key role in Telangana movement along with Chandrasekhar Rao, alleged that the government was trying to snatch democratic and constitutional rights of the people.
TJAC leader said that for over a month the opposition parties had been raising their voice over the issue but the government was bent on shifting 'Dharna Chowk'.
Main opposition Congress, Bharatiya Janata Party (BJP), Telugu Desam Party (TDP), Communist Party of India (CPI) and Communist Party of India-Marxist (CPI-M) declared their support to the proposed march.
State Congress chief Uttam Kumar Reddy said people had hoped that there will be greater freedom and liberty in Telangana state but the government was curbing people's right to dissent.
The TDP's Telangana unit President L. Ramna said the party would extend full support to TJAC on the issue.
'Dharna Chowk' has been the venue of thousands of protests by political parties, people's organisations, students' groups, employees' unions and others for over two decades.
Chief Minister Chandrasekhar Rao had last month defended the police move to shift 'Dharna Chowk' to the city outskirts saying that some parties were deliberately creating problems in the name of protests.
In March, leaders of all opposition parties had come together to meet Governor E.S.L. Narasimhan Rao and submit a memorandum protesting the government's move.