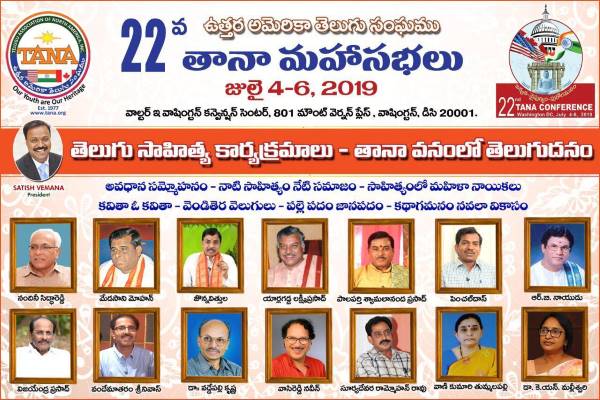 The Telugu literary glory is going to reach new heights in TANA Conference 2019.
In an exquisite leadership of Satish Vemana as President and Dr. Venkat Rao Mulpuri as Co Coordinator, TANA 2019 is getting ready for its 22nd convention on July 4-6 at Walter E Washington Convention Center in Washington DC.
A Unique part of Telugu literary culture is "Avadhānaṃ" Avadhānaṃ originated as a Sanskrit literary process and is revived by Telugu poets in modern times. Avadhāni is the person who performs Avadhānaṃ. The questions are posed to the Avadhāni that are of Literary nature. Avadhāni is recognized for their ability to take on as many questions at a time and answering them in the consequent order.
Popularly known to take on 500 of these questions is world renowned literary Dr. Medasaani Mohan Garu will eloquently grace TANA 2019.
A celebrated representative of Telugu culture Yarlagadda Lakshmi Prasad Garu will be a special guest at TANA 2019. Telugu language writer and poet whose efforts were instrumental in enlightening people of Telangana about their neglected language and culture will render an inspirational speech too.
Celebrated writes like Paleti Syamalananda Prasad and Nandini Siddareddy will grace this occasion as well. Vani Kumari Thummalapalli, Dr. K N Malleswari will also be honored at the event.
Vamsy is one of the very few filmmakers in Telugu who tries to depict the nativity of the concerned story. He is well known for portraying the scenic beauty of Telugu states and surrounding regions, also, the element of characterization is the highlight in his films. Vamsy is going to be an honored guest at TANA 2019.
Telugu movie writer Jonnavithula Garu, Music Director Vandemataram Srinivas Garu will stand out as special invites at the convetion.
Legendary writer Vijayendra Prasad Garu, who has given us movies like Baahubali, Bajrangi Bhaijan will grace the TANA 2019 Dias as honored guest and receive special felicitation from TANA organization.
All in all, TANA 2019 convention is going to set a stage to be proud of for every Telugu speaking person around the globe by fostering, elevating and enriching the rich and varied Telugu heritage.
As a special invitee, Surya Devara RamMohan Rao an eminent Novelist will be gracing 22nd Tana convention. Asthana Vidwaan of the holy Kanchi kamakoti Peetham SRI R B NAIDU garu will bestow benevolent speeches.
The famous lyricist Vaddepalli Krishna will entertain with his light music. Eminent Author Vasireddy Naveen will embark us on the storyline of telugu story literature.
Tana 22nd convention will enable us to encounter and witness famous celebrities from all walks of telugu literature.
For more details please visit www.TANA2019.org.
Press release by: Indian Clicks, LLC
Telugu360 is always open for the best and bright journalists. If you are interested in full-time or freelance, email us at
Krishna@telugu360.com