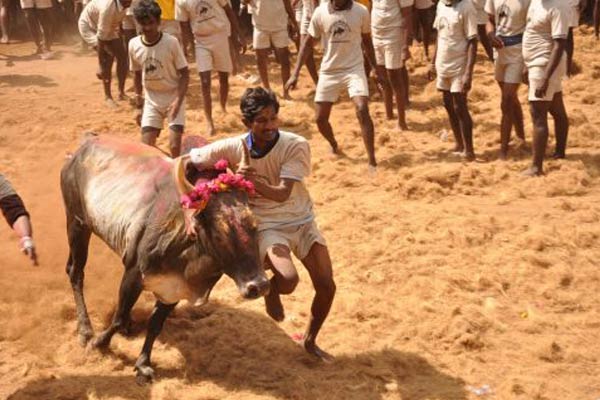 Three spectators of Jallikattu or bull taming sport were killed and several injured at different places in Tamil Nadu when bulls attacked them, according to reports reaching here.
In a village in Sivaganga district — around 500 km from here — two persons were killed when a bull attacked them on being released. Around 50 persons were injured in the attack.
Similarly, in a Jallikattu in Trichy district, around 350 km from here, one spectator was killed and several were injured in a bull's attack.
Meanwhile, at Alanganallur in Madurai district, Jallikattu was jointly flagged off by Tamil Nadu Chief Minister K. Palaniswami and Deputy Chief Minister O. Panneerselvam.
Around 1,000 bulls and over 1,200 bull tamers participated in the event.
Jallikattu is Tamil Nadu's traditional sport which is part of Pongal festivities.
The rules of the sport say that a bull tamer will be awarded a prize if he hangs on to the hump of the animal for a certain period of time.
The winning bull tamers and the owners of untamed bulls would be awarded prizes like cash, consumer durables, two wheelers and others.
This year, two cars has been added to the prize list for the Allanganallur event.
After mass protests last year against banning the sport, Jallikattu was held following the passing of an ordinance amending the Prevention of Cruelty to Animals Act.
The first Jallikattu event of this year was held in Madurai on January 14.