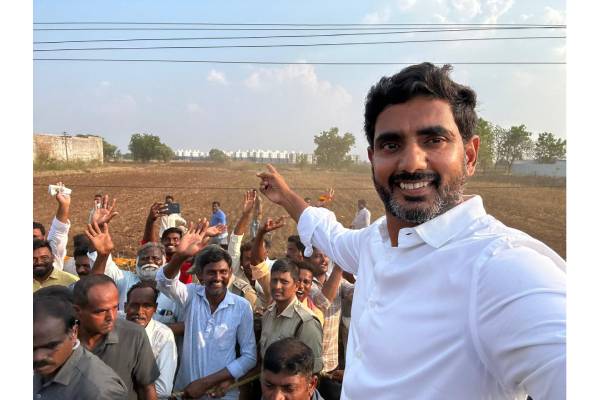 The houses built under the Andhra Pradesh Township and Infrastructure Corporation (TIDCO) are a clear testimony for the commitment of the TDP towards providing houses to the poor, observed party general secretary, Nara Lokesh, on Tuesday.
After visiting the TIDCO houses at Allagedda during his Yuva Galam pada yatra, Lokesh dared Chief Minister, Jagan Mohan Reddy, to come out with details on the houses that he has built for the poor in the past four years. Referring to the recent statement made by Jagan that he is building townships but not houses, Lokesh asked "Can the Chief Minister claim that he has built at least 10 houses for the poor in the whole State in the past four years," he asked.
Jagan has till now built only five houses in the State while Chandrababu Naidu, as the chief minister of the State has the credit of building 3,000 houses in Allagadda alone and 3.13 lakh housing units across the State, the TDP general secretary remarked. "The YSRCP leaders are shamelessly applying their party colours to the houses built during the TDP regime," he said.
Earlier at the Allagadda campsite, the local advocates in a memorandum appealed to Lokesh to honour the Sribagh pact by the coming TDP government and set up a High Court bench at Kurnool. They also sought sanction of funds for constructing a building for Allagadda Bar Association and allotment of house-sites for the advocates.
"The TDP has the highest regard for advocates and the judicial system and we never change tack like Jagan. I am assuring you all that the coming TDP government will certainly set up a High Court bench at Kurnool and also house-sites will be allotted to the eligible advocates besides sanction of loans to them to build houses," Lokesh told the advocates.