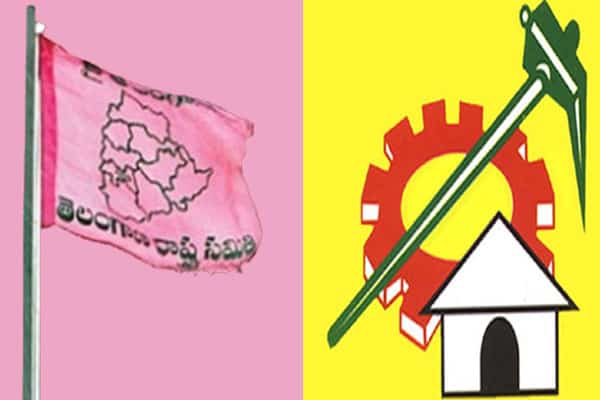 Andhra Pradesh Chief Minister Nara Chandrababu Naidu on Friday confirming the speculations around early elections asked his party leaders to gear up for polls. Two weeks back, a reporter questioned Telangana Chief Minister Kalvakuntla Chandrashekar Rao at a press conference about early elections. The TRS chief shut down the reporter by saying that – "why would there be elections now, there is two-years for it." However, if one goes by the animated discussions in the assembly session and the constant public gatherings of TRS, it seems otherwise. A month ago, KCR himself claimed that if early elections happen, it will be a cake walk for TRS. He said that only his party performed beyond what was promised in the in manifesto and held that manifestos should come in judicial purview.
If snap poll does come-by, TRS is the only party which can out rightly win the elections. TRS has done everything to strengthen itself and hit record mark of 75lakh party registrations. Harish Rao, Tummala Nageshwar Rao and others have been addressing several meetings. The brother sister duo – Kavitha and KTR at Janahita meetings are ensuring to inform people about the achievements of TRS. KCR's at the party meeting at Kompally also conveyed the same. BJP is the only other party in the newly formed state which is making every possible move to establish itself.
When it comes to AP, Naidu's strength is not in implementing the manifesto but weakening the opposition. Master strategist KCR did this in the first year itself, while it took some time for Naidu. Even TDP in Andhra Pradesh has bright chance to win the election as the major opposition YCP is not yet prepared. While TRS is already reaching out to people, Naidu yesterday asked his leaders to go to the people with the agenda of elections and start holding meetings in every district. There are many things like special category status, Vishaka railway zone, Kadapa steel plant that can work against TDP. On the contrary, the party registrations have increased. Also, Polvaram and Amaravati are two strong points with which Naidu can seek votes. NDA alliance meet confirmed that TDP and BJP will remain allies and whatever booth level strengthening the saffron brigade is doing is only going to favour Naidu.
Due to the CBI petition suspend the bail of Jagan, uncertainity looms over the YCP's strength. If buzz is to believed Jagan is planning to rope in his wife Bharati for next elections. The hearing on 28th April in the CBI court will clear some air about the party's next move. This week he was denied permission to go to New Zealand to spend summer vacation with his family. At time when snap polls buzz is strengthening, summer vacation does raise suspicion. However, if Jagan is detained, only in few Rayalaseema areas it might work in his favour. On the other hand, TDP has already made a mark though not a stronger, one in the foot-hold of YCP.
Jana Sena said it is ready to face early elections but it is apparent that it may not become the lead opposition with the numbers. Congress' Digvijay kept touring in both Telugu states but has hardly done anything worthwhile to strengthen the party. The elections in both the regions may not do anything new but only strengthen the existing ruling parties in both AP and TS.