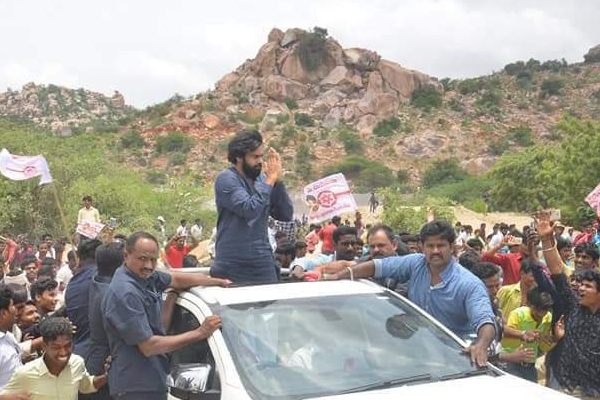 Pawan Kalyan yesterday visited Kurnool quarry blast victims and he attacked CM Chandrababu Naidu while speaking to media. However one interesting thing happened yesterday. Pawan Kalyan video byte responding to the questions of journalist appeared in Tv9 yesterday. By seeing this interview of Pawan Kalyan in Tv9, audience were surprised because he didn't give any interview to TV9 after he slammed media channels for attacking him and his family personally. In fact, some of Janasena fans blocked TV9 after Pawan called for that.
Couple of days back also Pawan Kalyan was seen asking TV9 camera person to go back and let other channels cameras (read it 99tv) come to the front line. The video that captured this incident happened during 'Pingali venkayya program' went viral on social media. Even earlier also, similar thing happened. During his North Andhra tour, ( at Vizag Shipyard) when Pawan Kalyan was speaking holding mikes of some news channels, TV9 reporter came to Pawan and asked him to hold TV9 mike too, but Pawan ignored him.
With this background, Pawan giving interview to TV9 channel surprised audience. Janasena fans, miffed with this, contacted Janasena media in-charge people. But janasena sources said that that reporter who interviewed Pawan did not reveal his identity that he is from TV9. Moreover, the mike he is holding also doesn't have the logo of TV9. Usually any bite taken by TV9 reporters will have TV9 logo on the mike. So, it seems TV9 reporter took the interview of Pawan Kalyan without revealing his identity.
Telugu360 is always open for the best and bright journalists. If you are interested in full-time or freelance, email us at
Krishna@telugu360.com