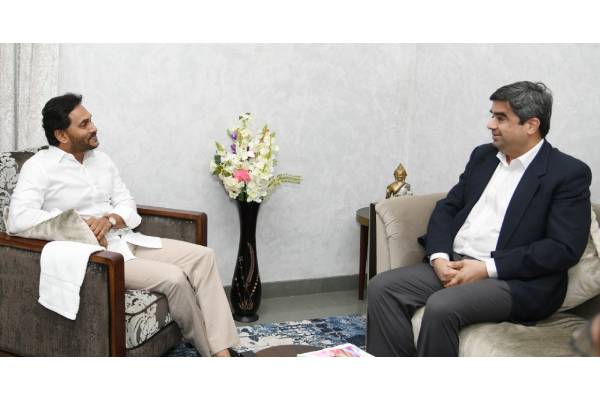 Saket Misra, Special Advisor to Uttar Pradesh Chief Minister called on the Chief Minister YS Jagan Mohan Reddy at his camp office on Tuesday.
He inspected the performance of Village Secretariat, Rythu Bharosa Kendram (RBK), Wellness Center, Dr YSR Sanchara Pasu Arogya Seva Kendram in Vanukuru, Penamalur Mandal, Krishna District. Later, he shared his views with the Chief Minister.
Saket Misra said that he has come to study the initiatives being taken by the Chief Minister in the fields of Education, Health and Agriculture which are laudable.
During his interaction with the Chief Minister, Misra recalled the words of Mahatma Gandhi. It is good to provide medical services to people, record their health history, and add other technologies including IT to make these programs run smoothly, he said.
On the Village Secretariat system, Misra said that it is a revolutionary concept. The development and welfare programs implemented in AP should be published and broadcast so that other states know about them. This will also allow other states to take the better aspects and benefit from them.
The revolutionary concept has also decentralized the administration by making services and welfare services of all government departments available at one place in the villages for the convenience of the public. Technology is being used effectively in all fields and the manner in which resources are utilized in village and ward secretariats for multiple programs is remarkable.
Misra said that he was also impressed with the system of drones being made available to farmers. Spraying pesticides an acre in just ten minutes is great concept. It is a great change that everything like fertilizers and pesticides needed by the farmer is available at one place, he said.
On Rythu Bharosa Kendras (RBKs), he said that they have become single point resource centres across the state for farmers' needs in supply of seeds and sales. It is a great concept that farmers can pre-register through e-cropping and also know on the spot what quantity they are selling and what rate they are getting at the time of crop sale.
In RBKs, the farmer's work completes after they sell the crop, and then the government takes responsibility even in case of any calamity. The reforms taken by the government by standing behind the farmer in every aspect like procurement of agricultural products and providing support price is highly appreciable, he said.