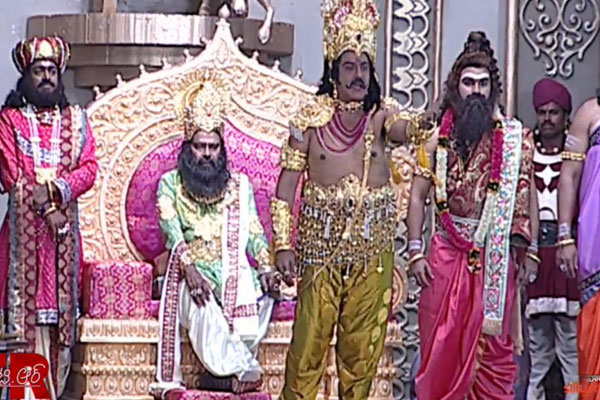 Much awaited NTR biopic shoot launched today at 9:42 am at Ramakrishna studios in Hyderabad. Many celebrities from the Telugu film industry attended the event. Highlights as below:
Vice president Venkayya Naidu attended as chief guest and TS conematography minister Talasani also graced the event.
Venkayya Naidu gave the clap for Muhurath scene.
Shoot started with a scene in which Balayya seen in mythological get up
Directors Boyapati Srinu, K. Raghavendra Rao, and Keeravani attended the event.
Fans from Nimmakuru village also attended the event, as they were invited by Balayya personally
It was this date (29th March, 1982), NTR entered into politics.
While Teja is directing, Sai Madhav Burra , who also penned for NBK's 100th movie Gautamiputra Sathakarni, is penning dialogue for the movie.
Heroine (NTR's wife late Basavatarakam role) is not yet confirmed but Vidyabalan is reportedly approached.
NBK will be seen in 62 get-ups of NTR in this movie, as per the initial reports
Vice president Venkayya Naidu reminded that Lava Kusa, Pathala Bhairavi etc released on March 29th. He also added, NTR created history but documenting history is as important as creating history and so he appreciates Balayya for his attempt to document history of NTR.
Allu Aravind attended the event and told he listened to this script two and half years back from co-producer Vishnu, who is his friend. He added, only Balayya can justify this role and only he has the courage to do this film.
Director Teja spoke and told he is planning to release movie for Dasara festival.
Teja during his speech revealed that they are in plans to release the film during Dasara and not Sankranthi
Finally, NBK spoke and gave new definition for NTR. He told – N= Natanalayam , T = Taramayam, R= Raaraaju. He added, he is making this movie to document the history and let the next generations know and understand his history.