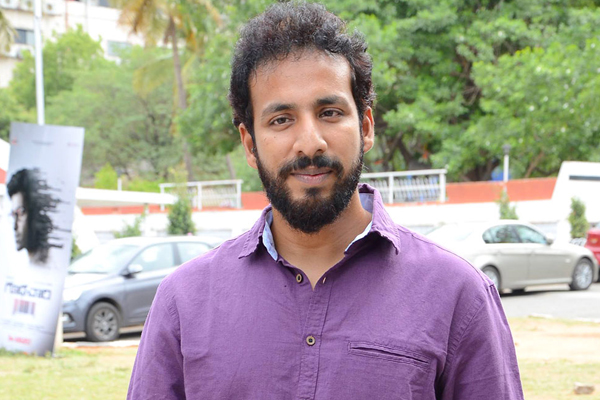 Nagaraj Goud
Released recently, the teaser of Adivi Sesh-starrer 'Goodachari', directed by Sashi Kiran Tikka, broke the internet within no time. With compliments coming from stars too— Nagarjuna, Sumanth, Nani, Rana and Lakshmi Manchu among others— the team couldn't have asked for more. "We felt it would be, at best, labeled as a good teaser, but then the reach was way beyond our imagination," Sashi, who assisted Sekhar Kammula for 'Leader', points out speaking to telugu360.com. "The scary part is now to live up to its expectations."
Sashi has been friends with Sesh for the past nine years and though they had plans of coming together for a film long back, nothing worked out until 'Goodachari'. He started working on the story—penned by Sesh— two years ago along with Rahul and though they had narrated other ideas to producer Abhishek Nama, he decided to invest in 'Goodachari' because it offered him something fresh from the mundane. He admits to the influence of Hollywood's spy cinema on 'Goodachari', saying that he and Sesh have grown up on Hollywood. However, "the core emotion is universal and it will resonate with the audience of 'B' and 'C' centres. Having said that I might be wrong too, but if they connect to it, nothing would stop its success."
The film narrates the story of Sesh's character into RAW (Research and Analysis Wing), the foreign intelligence agency of India. He admits info on RAW and its working mechanism is not as much compared to other spy agencies like CIA (of US), thus leaving them with no option but to fictionalize the story to a great deal. "When we began our research, they were hardly two books on RAW and they too were not great, offering us very little," he notes, adding that though they took cinematic liberties, they tried to be as real as possible at the same time.
Shot in 116 days in places like Hyderabad, Rajamahendravaram, Kakinada, Himachal Pradesh, West Bengal, Bangladesh and US, the film marks the acting comeback of Supriya, niece of superstar Nagarjuna. Her first and last film, 'Akkada Ammayi Ikkada Abbayi', was alongside Pawan Kalyan in 1996. Sashi informs that they did consider many other actresses and approached some of them too, but Supriya, who is the executive director of Annapurna Studios, was always at the back of their mind. "She has a commanding persona and the role, except for the change in attire, required to be what she is in real life," he smiles, further revealing that it took a lot of coaxing from their end to convince her. "She was not at all interested with the idea of acting again, but we persisted. She finally listened to the story, but wanted us to do a trial shoot first to check whether she is at ease in front of the camera. If not, she was sure she wouldn't be doing it. We did a shoot, edited it and showed it to her, to which she was like, 'Aa parvaledhae!' She was in later. She is playing a spy too."
Sashi, Sesh and producers have a sequel plan and make 'Goodachari' a franchise if it clicks at the ticket counters when it opens on August 3. "We have a basic idea for the sequel but then it's too early to talk about it," he signs off.