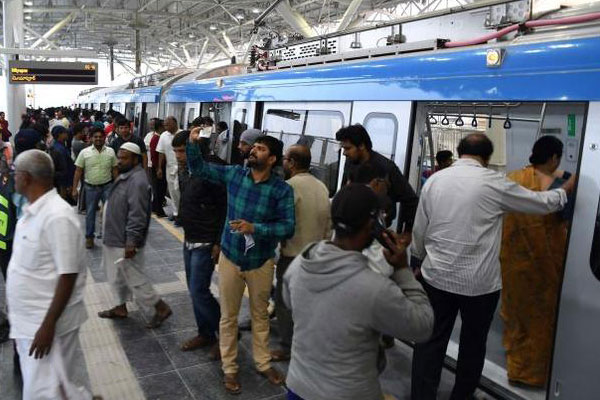 Visitors to Hyderabad have a brand new attraction now. That's Metro! For thousands of people coming to Hyderabad for various purposes, Metro has moved into their itinerary. Besides, a joyride on Metro for families on weekends is 'in' thing if the rush witnessed on Saturday and Sunday last was any indication.
Barely a week after its inauguration by Prime Minister Modi, the new mode of mass transport has been gaining momentum with every passing day. Metro trains started operating on a 30km stretch of the first phase of the project from November 29 and in one week the elevated mass transport has registered a footfall of more than a million. The highest recorded so far was on Sunday when 2.4 lakh people travelled on different routes.
The numbers are music to the ears of concessionaire L&T and the Telangana government as both of them are partners in the mega venture. With commuter numbers steadily increasing, the government is mulling revival of an old plan to extend Metro to Shamshabad airport. If it is done, air passengers could zap in and out of the international airport which itself is witnessing a phenomenal increase in passenger traffic.
There are, of course, initial problems which are continuing. Major passenger complaints include no drinking water facility, lack of platform signs and display boards. There are safety concerns too, a major one being passengers trying to travel on footboards or standing near the doors, without realising the fact that they are automated. Looks old habits die hard. Nevertheless, Metro authorities are showing remarkable patience in dealing with situations that are peculiar to Hyderabad.